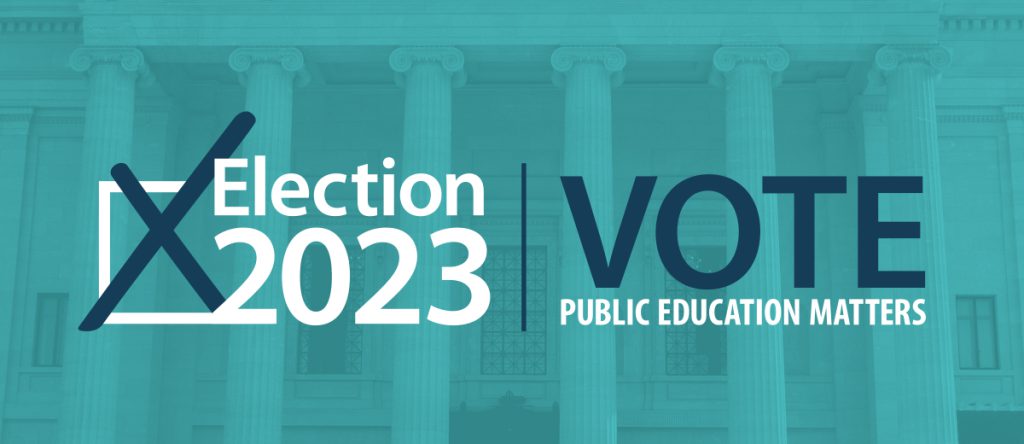 Leading up to the provincial election on Oct. 3, 2023, MTS will be providing information on this page regarding the campaign with a focus on education issues.
We will be posting party promises pertaining to education, as they become available, and links to a variety of sources to help you make an informed choice on election day.
---
What's the Plan for Funding Public Education?
The Manitoba Teachers' Society has continually made the case that adequate, equitable and predictable funding is crucial for a strong and sustainable public education system.
As we look ahead to the Oct. 3 provincial election, there has been little said about ensuring that public schools have adequate funds to meet the growing and diverse needs of the student population.
In 2019, former Premier Brian Pallister promised that a re-elected Tory government would gradually phase out education property taxes over the course of a decade. The intent was to fill the estimated $1 billion gap left by the education tax from general revenues.
Not only were the Tories re-elected, but they expedited their plan to phase out education property taxes. In 2023, property owners will receive a rebate equal to 50 per cent of the education property tax they paid. Furthermore, since 2021 the provincial government has spent more than $1 billion on property tax rebates – money that could have gone into Manitoba classrooms.
To date, the provincial government has not unveiled a new funding model but has started the consultation process with education partners and stakeholders to ensure school divisions receive equitable funding.
Unfortunately, the limited scope for this new model does not address the adequacy of funding – the amount of money in the education pot.
The issue of adequacy requires a funding formula sensitive to the differing cost structures that exist across the province. Differential student and contextual needs must also be acknowledged.
A new funding model that fails to address the amount of funding will result in school divisions being equitably underfunded.
In short, equity in public education funding cannot be achieved without addressing adequacy.
The NDP, if elected, has promised to keep the rebate for residences and farmers in place for now. However, they too have not presented a plan for replacing the funds lost due to the property tax phase out.
The Manitoba Liberals said they will keep the education property tax but repeal 80 per cent of what has been offered so far and direct what remains toward people with lower incomes, small property owners, people with disabilities and seniors on fixed incomes.
Click here to read the MTS submission to the provincial government calling for adequate, equitable and stable funding to support student learning.
---
How the Parties Compare on K – 12 Public Education
Progressive Conservative Party of Manitoba
The PCs promise to expand parental rights in schools, including the right to be informed about curriculum, to be involved in addressing bullying and behavioural changes, to get advance notice about any presentations by people outside the school system, and to consent before any image of a child is made, shared or stored. Stefanson said any changes would be made after consultations. Those discussions would also look at whether to inform parents if a child expresses a different gender at school.
New Democratic Party of Manitoba
The NDP promises to create a universal school nutrition program in the province, offering meals to every student in need. Expanding the province's current plan to all schools would cost $30 million a year.
Manitoba Liberal Party
The Liberals promise to expand training programs at the University of St. Boniface to ensure French-language spaces are available and staffed. The party also promises to ensure stable funding for the public education system and create a screening system for learning and other disabilities for all children. The Liberals aim to establish a universal K-12 nutrition program.
Green Party of Manitoba
The Greens promise to reduce wait times for assessing students with learning disabilities so they can receive necessary support. The Greens promise to provide post-secondary students needing financial help with at least 50 per cent of eligible funds as non-repayable financial assistance, and to introduce an income-contingent repayment plan for student loans. The party aims to fund education through corporate and personal income taxes, rather than through property taxes.
Keystone Party of Manitoba
The Keystone Party pledges to stop funding school boards. The party promises to have approval of parents in creation and adoption of school curricula.
Adapted from:
Froese, Ian. "How Do Manitoba's Parties Compare on These Election Issues?" CBC News, CBC/Radio Canada, newsinteractives.cbc.ca/features/2023/manitoba-party-platforms/#intro. Accessed 12 Sept. 2023.
Click here to read full article.
---
Political Party Platforms
Political parties play a vital role in shaping the direction and policies of the government.
As the provincial election approaches, understanding the platforms of the different political parties is essential for making an informed decision.
Some parties have unveiled fully costed platforms, while others are making daily announcements.
The links below will take you to the most recent information available and will be updated as the parties continue to reveal their full platforms.
---
We Asked the Candidates
The Manitoba Teachers' Society posed a series of questions to the leaders of all seven registered political parties in the province to help members make an informed choice on election day.
The questions were consistent with the MTS member priorities for the future of public education and ranged from education funding and safe and inclusive schools to teacher workload and French language education.
Responses were received from four of the seven parties.
Click here to read the responses.
---
Rally for Public Education
"One fish, two fish, fully funded education is our wish" was one of many rally signs outside the Manitoba Legislative Building on Aug. 24, where more than 250 teachers, union leaders and public education advocates gathered to put public education on the election agenda.
Speakers from across the province highlighted the classroom effects of seven years of chronic underfunding of public education by the PC government.
In addition to calling for the next government to prioritize adequate funding for public education, the participants encouraged Manitobans to vote in the Oct. 3 election.
Click on links below to read more about the rally.
Western Teachers' Association rallies for equitable, stable and adequate public schools funding
Teachers decry state of classrooms at pre-election rally
Des éducateurs réclament un meilleur financement dans les écoles du Manitoba
---
Public Education Forum
Representatives from Manitoba's three main political parties participated in an hour-long debate, promoting their party's plans for public education.
All three participants: Nello Altomare (NDP), Wayne Ewasko (PC) and Ian MacIntyre (LIB) are former teachers.
The event was held on the first day of Summer Seminars at the Delta Hotel in Winnipeg and was moderated by Richard Cloutier who is well-known for his role as the co-host of the News on 680 CJOB.
View MTS Public Education Forum
---
Additional Resources
Manitoba Election: Kinew and NDP Hold Six-point Advantage at Midway Mark of Campaign
Voters in Manitoba Deeply Divided as Campaign Continues
Why should you care about Election 2023?
How the Parties Compare on K – 12 Public Education
MSBA Provincial Forum on Education
MTS Election Preparedness Toolkit
Here's everything you need to know about all 57 ridings in Manitoba's upcoming election
Which party's views align with yours? Try the Vote Compass
Wab Kinew's unlikely path from rapper, reporter to politician vying to be next Manitoba premier
Manitoba PC Leader Heather Stefanson reflects on warming up to the spotlight
Liberal Leader Dougald Lamont reflects on vital role smaller party plays in Manitoba politics
'Elitist,' 'relatable' and 'who?' Swing riding voters have their say on 3 Manitoba political leaders