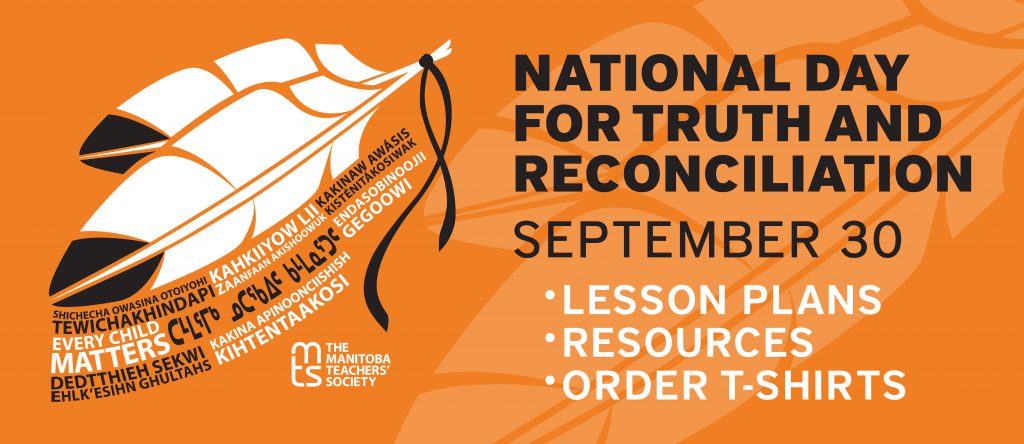 National Day for Truth and Reconciliation – Sept. 30
September 30 is the new National Day for Truth and Reconciliation. It's also Orange Shirt Day across Canada. All Manitoba public schools will be closed.
The Manitoba Teachers' Society – together with Manitoba's education partners and many Indigenous organizations – will be honouring residential school survivors throughout the final week of September. We encourage all Manitobans to do the same.
---
Order your Orange Shirt
You can order your MTS union-made shirt through our supplier Union Proud* at www.MTSshop.ca. We've designed our popular Orange Shirt Day t-shirts to include the theme Every Child Matters in seven Indigenous languages. The reverse features "Honouring Residential School Survivors."
Bulk orders can be placed directly through Mike Blower at Union Proud Mike@unionproud.com as in previous years. Single and bulk orders will not be arranged through McMaster House.
*Union Proud is making donations to The Indian Residential School Survivors Society (IRSSS), an all-Indigenous, non-profit organization that provides emotional support, crisis counselling and services to residential school survivors in B.C. There are nine staff members there. Shortly after the tragic discovery in Kamloops, the IRSSS dispatched a group of counselors directly to that town to provide counselling and support to survivors of the Kamloops Indian Residential School. Their mission is to serve survivors. They also maintain a hotline that's open to survivors in B.C. and across Canada.