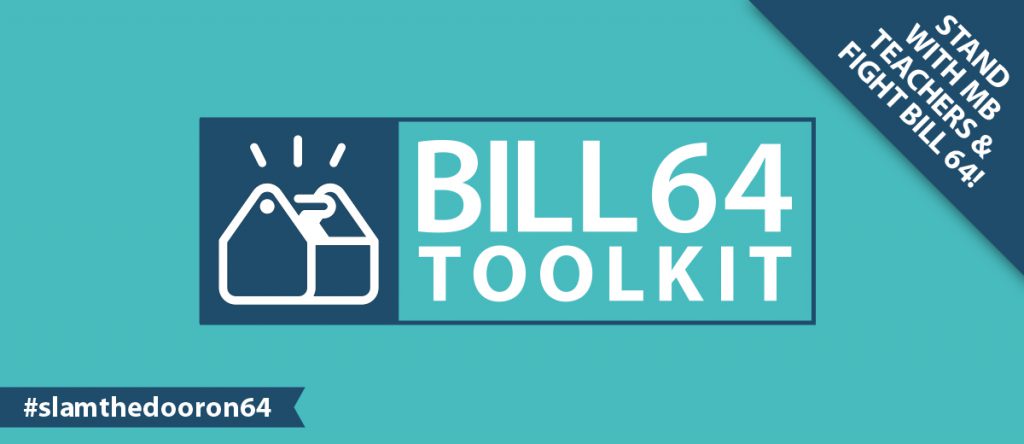 Bill 64 proposes the elimination of democratically elected school boards, the creation of a provincial education authority, school division amalgamations reducing the 37 divisions to 15 "regional catchment areas" plus DSFM, and limiting principals and vice-principals from being in the same bargaining unit as teachers.
Bill 64 also speaks volumes in what it does not say. On matters of fundamental importance, such as the purpose of public education and the principles of equity, inclusion and justice, the legislation is silent. Rather than advancing public education in Manitoba with students in mind, the legislation focuses on control, compliance, and standardization in schools.
This MTS toolkit gives you background on the legislation, how it impacts teachers, and most importantly, how you can #raiseyourvoice as a Manitoba educator in opposition to Bill 64.
Click here for the Bill 64 FAQ ENG

|

FRE
Top Issues ENG

|

FRE
Presenting to a Bill Committee ENG 

|

FRE
Tips for Writing a Submission ENG 

|

FRE
How to Write a Letter to the Editor

ENG 

|

FRE
Guidelines for Virtual Presentations ENG

|

FRE
Facebook Frame Yourself to Fight Bill 64 ENG

|

FRE
While we're writing letters and presenting to committee on Bill 64, we also want to flood our social media channels with sharables that all members and other concerned Manitobans can use. Look for these in your social media channels starting this week, and share, share, share!
---
Help us "Slam the Door on 64" with your MTS Lawn Sign!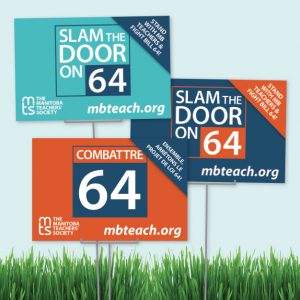 Let your community know how you feel about regressive education legislation.
Download the PDF artwork below (24″ x 16″ sign) and send to your favourite local printer or contact Derick at The Sign Source / Displays on Main 204-956-7446 or sales@displaysonmain.com to place an order (they will already have the sign artwork on file).
Want to customize your sign with your Local logo? A 4″ x 4″ sticker fits top left of the lawn sign. Contact your printer for costs.