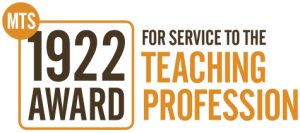 The 1922 Award recognizes a member who has demonstrated leadership, commitment, and fortitude in service of union values and priorities to achieve positive and sustained change for current and future union members.
The information provided as part of the nominations package will be received by the Executive Director and forwarded to the 1922 Award Committee for consideration.
If you have questions or require more information, please send an email to 1922award@mbteach.org
---
---
Selection Process
The 1922 Committee is responsible for reviewing all nominations and forwarding a final recommendation to Provincial Executive at the April meeting.
Unsuccessful nominees in any year will be automatically re-nominated for one year following the original nomination if they continue to meet the eligibility criteria.
Successful nominees will be notified by the Executive Director immediately following the April meeting of Provincial Executive.