Eurocentrism has long played a role in art teaching, but some educators are looking to change the status quo. "What we're trying to do in art education is really move to full integration and inclusivity, so that we're looking at works from all sorts of people," says Dawn Knight, an artist and art teacher at Fort Richmond Collegiate.
Enter the Resilience project. Based on a national billboard art exhibition that featured the works of 50 Indigenous women artists, the Resilience project is made up of 50 Indigenous art cards complete with a teaching guide. It contains 50 full-colour, 8″x10″ reproductions of contemporary Indigenous art and a bilingual (English/French) teaching guide, full of ideas on how to use the art cards to animate discussions and inspire activities in all subjects, from kindergarten to grade 12.
The original show was produced by MAWA (Mentoring Artists for Women's Art), an organization that Knight is a part of, and curated by Lee-Ann Martin. "I was at a PD session at Art Junktion in 2018 with Shawna Dempsey, one of the co-directors at MAWA," says Knight. "And we were looking at a lot of art images from books and one of the things we were noticing was that a lot of the access to images in art classrooms is really limited to dead, white, European men."
Amazing Resource for Educators
Knight and Dempsey realized that the Resilience billboard project that was happening at the time would be an amazing resource for classrooms and educators. "Shawna is very supportive of educators and she did a lot of work to raise funding so that we could put together a teachers box set of images from the exhibition."
Each of the prints feature full colour images with a piece of writing on the back. In some cases it's poetry, or the artist's statement or an idea about the work. The artwork was created by First Nations, Inuit and Métis women artists and is a physicalized reminder of buried histories and diverse contemporary perspectives. As the teaching guide states: By using these art cards, you are doing important and essential work. You are responding to Call to Action #62 of the Truth and Reconciliation Commission of Canada….and validating the experiences and traditions of your Indigenous students, and instilling respect and understanding for Indigenous Peoples in students of all backgrounds.
Knight was one of the four writers who wrote the teaching guide because of her background in art history. "The guide covers a lot of topics, it's not necessarily just for art teachers, but also K-12 teachers in different subject areas such as math, science, English and Social Studies," she explains. "A lot of lessons can come out of this artwork including environmental stewardship, land rights, water rights and missing and murdered Indigenous women."
Yvette Cenerini is an artist and art specialist with MAWA and though she was a co-author on the project, Cenerinin says that the teaching guide actually taught her a lot of things. "I wasn't too knowledgeable about all the different topics that were brought up in the guide so I had to do a lot of research and I learned a lot. We really wanted to get this project into classrooms because this kind of resource is so needed."
Lita Fontaine, another co-author, practicing artist and artist-in-residence at Seven Oaks School Division agrees. "We don't have this kind of information in the arts curriculum in Manitoba so it's a great teaching tool. My job was to enhance this learning with Indigenous content and perspective and I feel like this project has done that."
The pieces are made up of various media including performative works, crafts, photography, installation work and illustrations, and the lesson plans are thematic and topic based. For Knight they've inspired a recent artwork project with her students entitled the HIStory/HERstory/THEIRstory project, where each student self-reflected on their own resilience story and what factors in their life have influenced their identity.
"We looked at all aspects of identity and asked some big questions. Resilience looks different for every student, some students are from a family that immigrated here, others are dealing with personal issues or mental health, or different things around family structure and family dynamics."
Knight says it's important that no cultural appropriation is happening. "I don't want my students to copy an artist, the idea is to look at the 'thinking' that the artist has done. I want them to look at the aesthetic choices the artist has made, but also contextual choices."
"We ask questions about the ideas behind the art so that it becomes about thinking about the art piece and realizing that all of us bring our own baggage to an art piece. And so the meaning of the artwork isn't just made by the artist, but actually by the audience as well."
Fontaine's artwork was featured in the Resilience billboard project and she says there are many Indigenous women artists in Canada. "Women are important in a matriarchal society and it's wonderful to have a platform to have these women's voices seen and talked about."
Artists' Voices Brought into Classroom
The students' reactions to the cards have been very positive. "There's a lot of great discussions that come out of it. And I'm finding that there's a lot of art pieces that kids might not select as an interesting piece, but when we spend time with them, suddenly they mean much more to them." Knight says another value of the cards is that it's the artists who are speaking about their own work. "I don't want to be the voice of these women, they have their own experiences and I value that, and I think it's super important that these voices are brought into our rooms."
"I just want teachers to feel comfortable and not scared to approach Indigenous culture and topics in the classroom," says Cenerini. "I want to show how art is such a good way of bringing up conversations. Because reconciliation is so much about us learning together."
For Knight, one of the pieces that stand out most to her is by Christi Belcourt entitled This Painting is a Mirror. Belcourt uses paint on canvas to portray traditional beadwork esthetics. "She speaks so much about our interconnectedness with land and how we're linked—the air that I'm breathing right now and the water I drink is the water that my ancestors also drank."
MAWA has been able to raise enough funding to provide every school in Winnipeg with a box set of the cards. The Manitoba Association of Art Educators has also been providing the image package to teachers who want them. All band schools in Manitoba have also received copies. MAWA has also developed a new website arted.ca with support from the Manitoba Association for Art Education and the Manitoba Arts Council. The site features visual arts learning resources for educators working with students of all ages and will be growing its offerings in the future.
"They've truly been an amazing resource," says Knight. "We had a great PD session in 2021 where we got Alisha Mernick from the US to do a session called 'Decentering Whiteness in the Classroom'. So much of what she spoke about resonated for me and is really the direction I'm hoping our classrooms move into, which is presenting multiple voices and not just the stuff that is in 99% of art books. By looking at pieces like the art cards—they're so much more than an artwork, they hold entire histories in them. And when we're presented with different voices we're all better for it. All of our students are better for it."
To learn more about the Resilience project and access free PDFs of the art cards and the teaching guide click here.
– Originally published in the Fall 2022 issue of the MB Teacher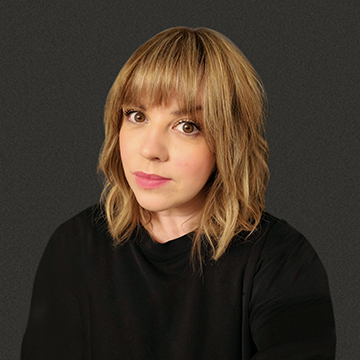 Matea Tuhtar is a writer/photographer for the MB Teacher magazine and the Media Communications Specialist for The Manitoba Teachers' Society.