Michelle Jean-Paul on discomfort, humility, and the commitment that drives systemic change.
From the time she was a child, there was never much doubt that Michelle Jean-Paul would become a teacher. Singularly focused, she'd gather her siblings and neighbourhood friends together to review times tables and lessons she'd planned just for them.
Jean-Paul credits her father, a teacher in Haiti and Canada, for instilling in her a love of education and its role in the creation of a vibrant, compassionate and just society.
"Teaching," she said in a 2018 Manitoba Teachers' Society ad campaign, "is what I was born to do."
Last January, Jean-Paul left her role as principal of École Templeton in Seven Oaks to advance the Louis Riel School Division's work on diversity, equity, inclusion and anti-racism services. While she's still teaching, her classroom looks different today than it has throughout her career.
For one thing, it's bigger. A lot bigger.
Expanding Dialogue Around Issues of Equity
"I've gone from a classroom with dozens of students, to a school of hundreds, to a division of thousands. It's really an opportunity to expand the important dialogue around issues of equity. It can be easy to feel like you're always the one sounding the alarm on certain issues, which can silence you sometimes. But here, part of my role is to offer those critiques, which feels very empowering."
She dove into her new role fueled by the potential to put into practice all she'd learned throughout her career.
"Issues around diversity, equity and inclusion have informed my educational philosophy since I was a teacher candidate. As a principal, I supported colleagues and community in a variety of ways, but my first responsibility was always to my own school community. This role really gives me the opportunity to hone in on this work in very intentional ways. It gives me the space and time to commit to the work."
The work, she says, is essentially relational, and trying to create connections in the midst of a pandemic was no easy feat. Even so, virtual meetings with colleagues have led to meaningful dialogue needed to build trust.
"Beginning the work at this time certainly limited the ways in which I could connect, but it also gave me the opportunity to be more intentional in the relationships that I'm building. These conversations helped me develop a great sense of the commitment folks have to this division and to creating an even stronger sense of belonging among members of our community."
In 2009, Jean-Paul founded the Educators of Colour Network (EoCN). The group meets—virtually, since COVID—to share perspectives, experiences and resources. The intent is to build belonging and peer support among educators doing the often-exhausting work of advancing change to deeply entrenched systems.
"Hearing the stories of internationally educated teachers and other racialized educators over the past 13 years has given me a better understanding of how systemic some of the issues—and our subsequent responses—must be."
Originally created as a space for Black educators, other minoritized teachers soon saw the EoCN's potential. Membership continues to expand, as do opportunities to learn and network in support of diverse representation and perspectives in teaching.
Establishing those connections is critical to the overall goal of manifesting change in the classroom and the larger school community. To Jean-Paul, that impact can take many forms, including the building of teacher capacity to engage students, colleagues and community in critical conversations and learning.
Bringing Community Into the Classroom
"I'm really encouraged by the number of people who have already sought me out to talk through an issue or deepen their understanding. My title and my identity seem to be an invitation of sorts for people to have the tough conversations with me."
Success, she says, looks like increased diverse representation in lessons, decentring dominant ideologies, bringing community into the classroom to learn from and walk beside people to develop allyship.
"It also looks like teachers making mistakes along the way, and using those opportunities to grow and do better. And to do so knowing they have the support of their division as they work to create more inclusive spaces within their classrooms."
For teachers aiming to advance equity and social justice in their classrooms today, look no further than your students and their families for support, says Jean-Paul.
"They are your most valuable "resource". Build strong relationships with them, extend the invitation continuously, and approach your work with humility. You will make mistakes along the way, but that is all a part of learning. It is how you respond to those mistakes that will demonstrate your commitment to equity."
With colleagues demonstrating no shortage of enthusiasm for the work, developing a plan of action and measurements of success become key.
"What I hope to see is a strong response from school communities that show us we're making gains and better representing diverse groups that live here. Louis Riel does a phenomenal job of data collection, so whether we're looking at qualitative or quantitative measurement, growth or success will be found in more stories that celebrate belonging."
Role Replicated in Other School Divisions
Jean-Paul would like to see her role replicated in other school divisions. A genuine desire for change, however, coupled with acceptance of the messiness inherent in tackling long-held perceptions and entrenched systems, are non-negotiable.
"This type of role is essential, but it must be authentic and purposeful. I would absolutely love to see more school divisions creating similar roles, but it needs to be more than just a tokenistic act. Infrastructure to support the work in deep and meaningful ways, and a willingness from leadership to model discomfort and humility are required to create true systemic change."
And for systemic change to occur, it must be rooted in a commitment to shared priorities.
"One of the things that attracted me to the job was the understanding that this is not the work of one individual or department. It's the work of everyone across the entire division. There will always be resistance to any kind of change; I think that's human nature. But naming forms of oppression and openly engaging in discussions about it as a division is how we move forward in our understanding. We need to be ready to wade through the messiness of this important work."
While it wasn't easy to leave her École Templeton school community, Jean-Paul sees her new role as a natural progression of work that's been foundational to her career.
"I am grateful for everything I learned both with and from my students and colleagues. There are so many great people out there who share the vision of creating spaces of belonging within our schools—particularly those the school system has oppressed, ignored and underserved for generations. And on my last day, my students reminded me of the responsibility I have in this role. They have been my best teachers."
Humbled and Reflective on New Appointment
The reaction to her appointment both within the division and beyond has left her both humbled, and reflective.
"It's made me feel proud of how I've built on the legacy that my dad and his generation of Black educators set for me. They are the ones I modeled myself after as an educator. The overwhelmingly positive response I've received demonstrates how willing and open people are to this work—they understand its importance and the urgency behind it. They're eager to contribute to positive change within the school system. And that is the power of education."
– Originally published in the Spring 2022 issue of the MB Teacher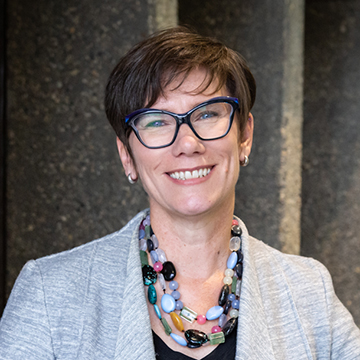 Anne Bennett is the Editor of the MB Teacher magazine and the Communications Department Head for The Manitoba Teachers' Society.