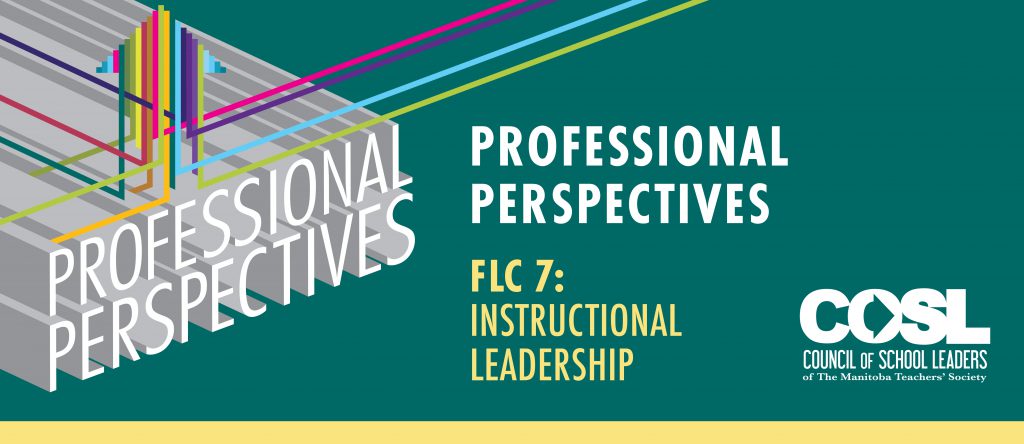 Professional Perspectives

FLC 7:
Instructional Leadership
Course Overview
Participants in this course will have the opportunity to explore current research and practice in the area of instructional leadership and the integral role that principals and vice principals play in leading teaching and learning. This includes the way that school leaders maintain a consistent focus on student achievement and student success through the creation of a culture of collaborative inquiry.
The course content and processes are intended to help learning leaders continue developing the knowledge and skills related to effective teaching and learning to support the professional learning of teachers through instructional coaching.
---
Instructors
Sascha Epp is a Staff Officer in the Professional & French Language Services Department and the Instructor for this course. Her current portfolio includes designing and delivering professional development for teachers and school leaders across the province, as well as overseeing the Collaborative Team Learning Grants initiative. Sascha's experience in education over a 20-year period includes various roles such as a K-12 teacher, divisional lead teacher, vice principal, principal and school board trustee.
Dr. Brahim Ould Baba is the Department Head for the Professional & French Language Services Department and the Instructor of Record for this course. In this capacity, he oversees the professional learning programs and services. He is passionate about supporting members in the areas of equity and diversity in schools, and Francophone Education. Brahim has worked as a K-12 teacher, consultant and university instructor.
---
Intended

Outco

mes
Throughout the course, the participants will be asked to reflect on and extend their knowledge of theory and practice in instructional leadership. Participants in this course will able to:
Describe key elements of instructional leadership;
Discuss the principal's role in maintaining a consistent focus on student achievement and student success;
Review the relevant legal, contractual and professional rights and responsibilities related to instructional leadership;
Identify current challenges and promising practices in supporting the professional learning of teachers;
Explore strategies to support staff in their teaching and learning, such as adult learning principles, staff development processes and stages, professional growth plans and instructional coaching;
Articulate how new learning and skills will impact their practice; and
Participate meaningfully in a community of practice by connecting and sharing how prior experiences and new knowledge will strengthen their leadership knowledge and skills.
---
Logistics
This course will be delivered virtually.
Cost:
$650 – (MTS Members)
$725 – (Non-Members)
Audited Cost:
$525 – (MTS Members)
$650 – (Non-Members)
Class Times:
July 5, 6, 7, 12, 13, 14, 2022 – 9:00 a.m. to 4:00 p.m.
---
Registration
Register here for 2022 – FLC 7 (COSL) – Professional Perspectives: Instructional Leadership
Questions about registration should be directed to Joyce Deleau at pdevents@mbteach.org
---
Accreditation
Successful completion of all six classes with additional readings and assignments will meet the requirements for a 3 credit hour Field-Led university course credit. For information on the Certificate in School Leadership, see Certificate in School Leadership Guidelines to Qualification (gov.mb.ca)
Please note: In order to have the Field-led credit transferred to your program, you must be registered in:
a post baccalaureate program in Educational Administration at either the University of Manitoba, or Université de Saint Boniface; OR
a Master of Education program at Brandon University.
You must also obtain a Letter of Permission from that university prior to the start of the Field-led course. Check with your university regarding deadlines for application.
The Manitoba Teachers' Society also offers this Field-led course in an AUDITED version for Professional Learning purposes – assignments are not required to be completed, no Letter of Permission is required from your university and no university credits will be applied.
Register here for 2022 – FLC 7 (COSL) AUDITED – Professional Perspectives: Instructional Leadership