In December 1995, the House of Commons officially recognized February as Black History Month in Canada. The intent is to recognize and celebrate the achievements and contributions of Black Canadians and their communities who, throughout history, have fundamentally shaped the fabric of Canadian society and continue to advance its culture.
When The Manitoba Teachers' Society reached out to me to write about the history of Black Teachers in Manitoba, I set out on a search for references. A rapid Google search came up with a three websites, Black History Manitoba, Black History and Antiracism in Canada, Educators of Colour Network, and the April 2019 Winnipeg Free Press article (WFP), 'Canadian Black History largely overlooked in classrooms'.
What I noted about the WFP article was 17-year-old Oluwadamilola Ojo's calls to reconceptualize a curriculum that represents the rich experience and deep diversity of Black populations in Manitoba. In the same article, NDP MLA Uzoma Asagwara addresses how antiracist education can provide contexts to discuss systemic inequalities, to identify ways in which systemic racism exists, functions and impacts communities. Along the same lines, antiracist education can also support individuals with the tools, the language and the resources to dismantle inequitable systems.
Recently, Manitoba Education updated its supplementary Canadian Black history and anti-racism education. Yet despite the racial reckoning of the last two years, teaching the material is not mandatory. The document, 'Creating Racism-Free Schools through Critical/Courageous Conversations on Race from Education Manitoba' does address the importance of engaging in complicated conversations about race to create racism-free schools.
Michelle Jean-Paul, in-coming District Principal in Diversity, Equity, Inclusion and Anti-Racism at Louis Riel School Division, believes this hesitance to mandate Black studies presents a disadvantage for all Manitoba students. Like Ojo and Asagwara, she is calling for a mandated Black curriculum that addresses those systemic inequities. Jean-Paul stresses that a comprehensive Black history curriculum in Manitoba should include the early Black settlement of the nation and the Prairies, with a focus on integrating contemporary achievements of Black Canadians into all aspects of the school curriculum.
Coming back to the original request to explore the history of Black teachers in Manitoba, my search seemed to indicate that there was little documentation available. For example, I could not find any disaggregated data about Black teachers in Manitoba. Malinda Smith, Vice-President Equity, Diversity and Inclusion at the University of Calgary, and author of The Equity Myths states that disaggregated demographic data helps in understanding the representation, experiences and perspectives of Black, Indigenous and People of Color (BIPOC). Access to this empirical data informs the design of equitable and inclusive services, builds supports and enhances outcomes. Further, the infographic data presentation also recognizes the importance of presenting research findings in ways that are accessible to diverse publics.
Using infographics of disaggregated and intersectional data, Smith demonstrated how three of four Employment Equity Act federally designated equity groups (FDGs)—gender, Indigenous peoples, visible minorities – and their intersections were poorly represented in academia. The three infographics provided answers to, and visual representations for, the following questions: (1) "Where are the Indigenous Peoples at Canadian Universities?" (2) "Where are the women at Canadian universities?" and (3) "Where are the visible minorities at Canadian universities?" Each infographic presents national and, where available, disaggregated, and intersectional data on Indigenous peoples (First Nations, Métis, and Inuit), the 10 visible/racialized minority groups, and gender (including white, Indigenous, and visible minority women and men).
Despite anti-racist policies and mandates in teacher education, access, equity and equitable representation remain ongoing challenges.
We know that white, middle-class, able-bodied, heteronormative students populate the majority in faculties of education across Canada. For some of these teacher candidates, gaining insight into the lives of "other people's children," as education scholar Lisa Delpit puts it, can support multiple ways of reaching out to the diversity of students.
By disrupting notions of assumptions, biases and prejudice, educational institutions can become more aware of existing inequalities in their communities as well as the whiteness of textbooks, novels and multimedia materials used as reference points and resources in class contents.
Let's Talk About Race
Ibram X.Kendi, author of How To Be An Antiracist says North Americans avoid talking about race, and treat it like a taboo subject. In fact, he says, we need to talk more about race, especially race as a social construct. Others echo Kendi: Canadian journalist Desmond Cole challenges people to shake up their complacency in his recent book on race, The Skin We're In.
Recognizing Kendi and Cole's calls to action, contextualizing Smith's questions to the Manitoban context may provide future direction in exploring the history of Black teachers in Manitoba.
Where are the Black teachers in Manitoba K-12 schools?
Where are the Indigenous Peoples in Manitoba K-12 schools?
Maybe now is the time for Manitoba to collect this data so that we can respect the calls to action and to develop robust antiracist policies that go beyond lip service to dynamic action.
– Originally published in the Winter 2022 issue of the MB Teacher
Black History Month Resources & Lesson Plans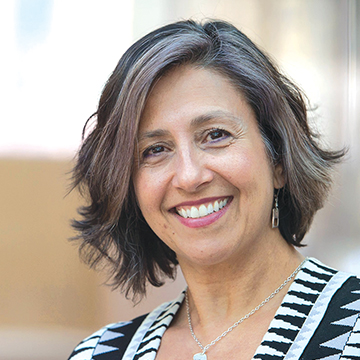 Dr. Karen Ragoonaden is a writer/contributor for the MB Teacher magazine and the Dean of the Faculty of Education, University of Manitoba. As the recipient of numerous Tri-Council grants in Social Sciences and Humanities, her research and publications focus on culturally sustainable pedagogy and well-being in relation to equity, diversity and inclusion.