Council of School Leaders
Ctrl+Alt+Delete (Let's Reset!)
Pre-conference Evening Event – October 20, 2022
Chief Cadmus Discusses the Road to Reconciliation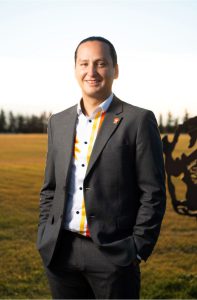 Brought to you by COSL and Manitoba ASCD
Chief Cadmus Delorme, a Cree and Saulteaux, is the Chief of the Cowessess First Nation. Chief Delorme graduated from Cowessess Community Education Centre in 2000. He later moved to Regina to pursue a Bachelor of Business Administration and a Certificate in Hospitality, Tourism and Gaming Entertainment Management from the First Nations University of Canada (FNUniv), and a Master of Public Administration from the Johnson Shoyama Graduate School of Public Policy. Recently, he has completed an Institute of Corporate Directors designation.
In 2012, Chief Delorme received the Queen Elizabeth II Diamond Jubilee Medal, recognizing his student leadership and the hospitality he showed to Prince Charles and his wife Camilla, Duchess of Cornwall, when they visited FNUniv. He was also named one of CBC Saskatchewan's Future 40, which celebrates the province's new generation of leaders, builders and change-makers under the age of 40.
In 2019, Chief Delorme was re-elected to a second term in office. Under his leadership, Cowessess First Nation has focused on economic self-sustainability for its nation and people and has moved forward on renewable energy, agriculture, efficiency in land use initiatives that have created both current and future business opportunities.
This past year, Chief Delorme faced one of the hardest moments as Chief when the Saulteaux and Cree First Nation made international headlines with the discovery of potentially 751 unmarked graves near the former Marieval Indian Residential School. Shortly after, Cowessess made headlines again as the first First Nations community to sign an agreement with Ottawa that returns jurisdiction over children in care to the community. Federal legislation overhauling Indigenous child welfare was passed in 2019 and came into force last year.
Click Here to register
Please Note: If you are also attending the in-person pre-conference event co-sponsored with MB ASCD: An Evening with Chief Delorme on Oct. 20th, you will get a discount on the COSL Conference registration when attending both events.
PD Day Conference Schedule
9:00 am: Welcoming remarks
9:00-10:15 am: Isha Khan, CMHR – Human Rights Education: Our common cause
10:15-10:30 am: Break
10:30-11:45 am: Elisa Hategan – From Hate to Hope: A Former Neo-Nazi speaks about Radicalization and Violent Extremism
11:45 am-1:00 pm: Lunch Break (on your own)
1:00-2:15 pm: Peter Dewitt – De-Implementation: Creating Space to Focus on What Works
2:15-2:30 pm: Break
2:30-3:30 pm: Jordan Friesen – Resilience for Leaders
All sessions will take place virtually and registrants will be provided with a link and any accompanying handouts prior to October 21st.
50$ for COSL members
75$ for non-members
25$ for COSL members who are also attending the MB ASCD event: An Evening with Chief Delorme on Oct. 20
50$ for non-members who are also attending the MB ASCD event: An Evening with Chief Delorme on Oct. 20
(5% GST is included in the pricing.)
Payment must be made through our online payment system.
If you have any questions, please contact Rob Fisher, Chairperson, Council of School Leaders at cosl@mbteach.org.