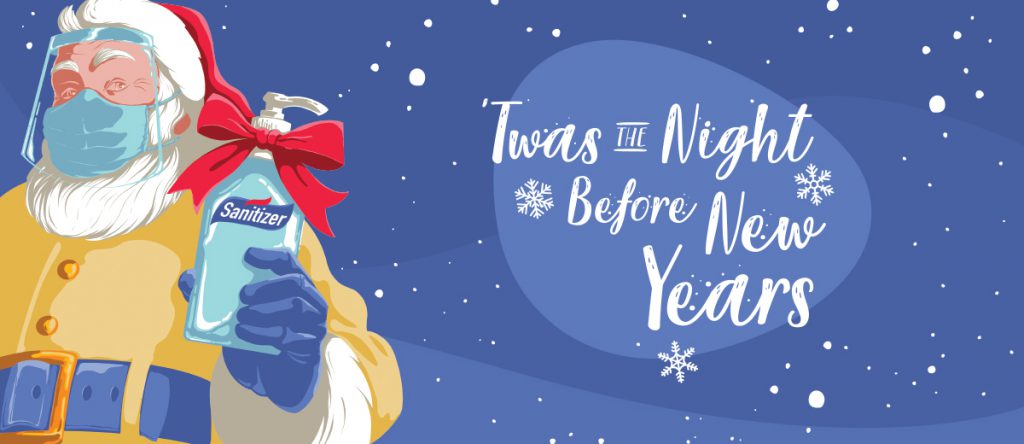 By George Stephenson
With a tip of the hat to Clement Clarke Moore (1779-1863)
"Sani Claus" Illustration by Matt Kehler
---
'Twas the weeks before New Year when all through our land
Parties of three had been summarily banned
Our PPE hung by the chimney with care
In hopes that a New Year would soon be there.
Memories of the past all danced in our heads
A repeat, a promise of hope torn to shreds
Mamma in her face mask tied to her cap
Had just settled in for a long-distanced nap
When out in the street there arose such a clatter
A message to all that Black Lives do Matter
Just one of the issues we saw on the street
With anti-maskers and vaxxers not nearly as sweet
The moon on the breast of the new melting snow
A reminder of climate change still on the go
When what to my wondering eyes should appear,
More ghastly visions of a very bad year.
With a black-caped ogre, like a rusty old penny
I knew in a moment it was two thousand twenty.
More rapid than eagles, his dragons they came,
And he whistled, and shouted, and called them by name.
Now, VIRUS! now, LOCKDOWN! now PLEXIGLASS and ZOOM
On COVID! on CASES! on CORONA! and DOOM!
To the top of your 'search' through summer and fall
Slash away, slash away, slash away all.
The malls emptied out and bars (sometimes) too,
Yellow, Orange or Red were the primary hue.
Schools had new rules, every day it did seem,
Leaving teachers the image of Munch's The Scream
Teach one class, no, two, go to online as well,
Universities never taught us this circle of hell.
Distance yourself, and your students, too,
In a tiny classroom, you'll just have to make do.
Make do, they did, there on the frontline
Still educating, protecting one kid at a time.
Don't cough, don't sneeze, hands in the suds,
You can't take sick time, we're right out of subs.
Classes too large? Just imagine them small,
Plans and reality need not match at all.
Imagination is a powerful tool
With it you can make safe every last school
Teachers and principals swallowed their fear,
Hoping against hope for a much brighter year.
Staying positive has always been a good vow
But being positive has such a new meaning now.
But the year, for sure, will soon disappear,
When it's in the rear view, we'll all give a cheer.
As the year fades in the brightening sky,
We'll give it a first and second wave goodbye.
He'll shake his head, and to his team give a shout,
Amazed a bit that we're sorting it out.
And will join us to exclaim, as he drives out of sight,
Happy New Year To All, Keep Up The Good Fight!
---
— Originally published in the December 2020 issue of The Manitoba Teacher