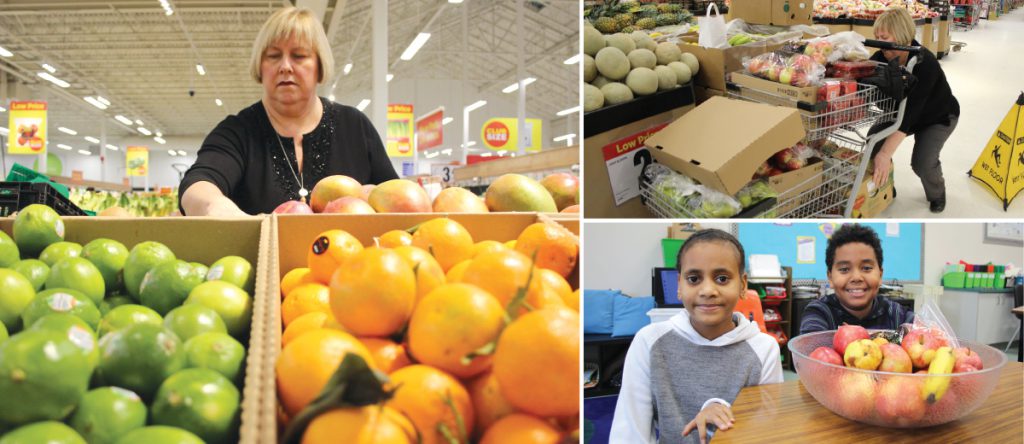 Story and photos by Lindsey Enns
---
It's been another busy day for students and staff at Sister MacNamara School, but Debbie Lenhardt Mair's school work isn't over yet.
Before heading home, the elementary school principal drives straight to Superstore. She grabs a grocery cart and enters the busy store on Bison
Drive, keeping her eyes peeled for fresh fruit with a focus on nutrition and value.
It's become like a weekly routine for Debbie, who for the past 10 years or so has been shopping for her school's food programs.
First, she walks over to a large display of red grapes and carefully selects a few good bunches. The cart fills with containers of blackberries, several big bags of pears and apples, and then come the raspberries, kiwis, oranges, and lastly an entire box of bright yellow bananas.
"Lots of people volunteer for Meals on Wheels or other kinds of things but I just see that there's a need and I have the ability to help," she said, standing at the end of a food aisle. "It's a good volunteer opportunity to make sure our kids have really good food for them so they can think and not worry about being hungry while they're in the classroom."
The elementary school of 430 students offers both a breakfast and snack program. Students in Grades 1 to 3 are given a prepared snack while students in Grades 4 to 6 have large fruit bowls placed in each classroom.
"Some of them have real favourites and things that they ask me to buy at the store so it's a really nice relationship and they're always so grateful," she said. "I just really think that they know that they're cared for and loved and that we really firmly believe in that."
Debbie says her weekly grocery bill for the fruit bowls is around $130 for approximately 140 students, which works out to roughly $1 per student. The school's food programs are made possible through a Child Nutrition Council of Manitoba (CNCM) grant, funded through the Winnipeg Foundation. They also receive funds through the Winnipeg School Division (WSD).
Although she does the bulk of her shopping at Superstore, Debbie says she also gets great deals at Costco as well as the Abbi's grocery and convenience store near their school.
"Being able to have the ability to shop at a variety of places, we can really make our dollar stretch and go further so that we can buy things that are on sale or at a reasonable price or in bulk."
The school also has a food coordinator who helps plan and prepare the school's breakfast program every morning. Debbie says the assistance they have received through the CNCM and WSD when it comes to feedback and professional development has been invaluable.
"We try to be culturally appropriate too," she said. "Our food coordinator makes rice and different kinds of things like that for breakfast because we have kids from all over the world. We have several cultural backgrounds that are represented in our school."
Over time they stopped serving fruit juice and instead encourage students to drink water. Debbie says their teachers and parents have noticed a big difference when it comes to the students ability to focus and stay on task in class thanks to the food programs.
Students' have also been able to try some new foods and have developed some favourites along the way. Grade 5 student Yoseph Haidar says he likes all types of fruit but red apples are his favourite.
"I like the fruit bowls because it helps you with school … usually I have it after recess," Haidar explained. "After recess we come in, have a snack and it helps us with our brains and helps us stop feeling hungry."
Haidar loves math and playing sports, especially football, so he says he depends on the fruit bowl to keep him fueled throughout the day. He also believes having a healthy snack on hand allows students to listen and pay better attention in class.
"It helps me a lot," he said. "Lots of kids come with hungry attitudes and minds and I understand that if they are hungry then their mind can be in a different state and it could stop them from learning."
Studies show that one-third of students in elementary schools and two-thirds of students in secondary schools do not eat a nutritious breakfast before school. Research has also shown that school food programs that improve access to healthy food and healthy eating habits at an early age could be the single most effective change to improve learning.
The Coalition for Healthy School Food, coordinated by Food Secure Canada, continues to push for an investment from the federal government in a cost-shared universal healthy school food program that would eventually enable all students in Canada to have access to a healthy meal or snack at school every day.
The federal government has historically said school food, as part of education, falls under the responsibility of provinces and territories, according to the coalition. However, the 2019 federal budget included a commitment "to work with provinces and territories towards the creation of a National School Food Program."
The coalition's ideal school food program would be cost-shared, universal, promote healthy eating habits and would support and enhance existing programs.
Establishing a universal meal program for all school-aged children at no cost was one of the Society's top recommendations for the province's Kindergarten to Grade 12 education review commission. Some schools in Manitoba currently provide a breakfast, lunch or snack program, some at a cost and others for free.
The CNCM, which helps fund school nutrition programs, supported 271 programs across Manitoba during the 2018-19 school year. The programs provided 30,500 students with consistent, healthy snacks and meals throughout the school day.
Debbie says being able to help out and be hands on with their school's food programs has been "really rewarding."
"I just see it as an act of love," she said. "When you prepare food it's just such a wonderful community event to have together that you're able to share food, it shows that you care about the kids … it's just a great way to build relationships."
---
— This story was originally printed in the March 2020 issue of The Manitoba Teacher Magazine