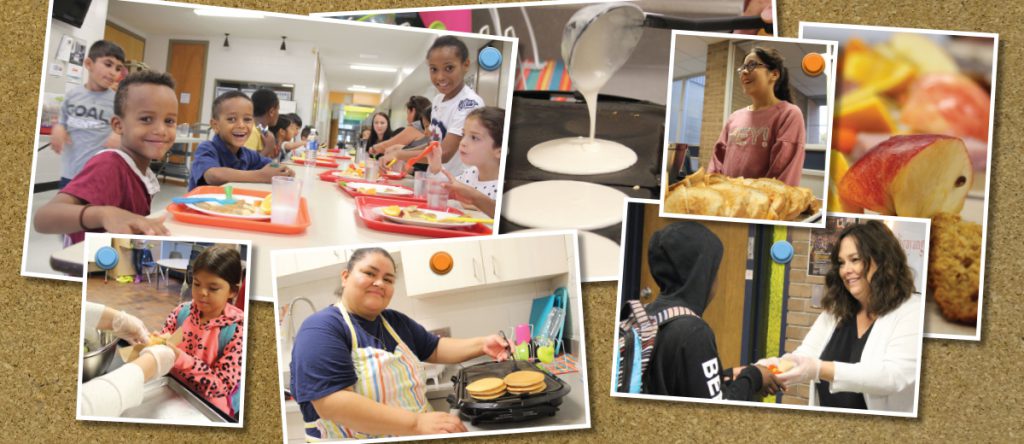 Photos and Story by Lindsey Enns
---
It's just before 8 a.m. on a Tuesday as the smell of fresh pancakes and syrup starts to waft through the hallways of Brooklands School.
A row of cafeteria tables sit empty near the school's entrance, just waiting to welcome hungry students. Red and blue serving trays and colourful bowls are stacked and ready for the taking, while a clear jug of freshly poured milk sits nearby.
Elsa Garcia, a part-time community connector at the Winnipeg elementary school, is cooking up a fresh batch of fluffy pancakes in preparation for another busy morning serving students breakfast.
"It just sets them up so you know they'll have a good day with something in their tummies," Garcia says. "It's a need in this community. I know a lot of kids come to school without eating breakfast … and if they can't make it, they know they can get something either way."
On this particular day, students have a choice of cereal or pancakes with a side of freshly cut bananas, orange slices and a glass of milk, which is Melody Wilson's favourite.
"I love breakfast program," the Grade 2 student says with a smile in between sips of milk.
While stirring her bowl of cereal, Grade 5 student Kierstyn Krist says the breakfast program allows her to pay better attention in class and keeps her on time for school.
"I also really like the eggs and toast," she adds.
Brooklands School principal Rex Ferguson-Baird says there's a real social aspect to their breakfast program.
"Nothing builds relationships better than sitting down and breaking bread together," Ferguson-Baird said, adding they serve around 30 students per day. "We know that kids, when they're well fed, they're mentally sharper and they're also able to attend to their lessons and their community better."
Currently, some schools in Manitoba provide a breakfast, lunch or snack program, some at a cost and others for free. The Child Nutrition Council of Manitoba (CNCM), which helps fund school nutrition programs, supported 271 programs across Manitoba during the 2018-19 school year. The programs provided 30,500 students with consistent, healthy snacks and meals throughout the school day.
CNCM chairperson, Wendy Bloomfield, says the need continues to grow for meal programs across the province each year.
"This all started because teachers were recognizing a need for this," Bloomfield said.
In 2016-17, the CNCM served 3.7 million snacks and meals, reaching 24,000 students and 239 programs. However, 60 per cent of the programs supported by the council said they needed further resources to meet the demand of students.
"The needs are continually going up and our funding has remained the same for a number of years, and so with that our support for schools is continually going down and that concerns the board," Bloomfield added. "The board has been looking at ways to get new sources of funding and has been doing a lot of outreach … so hopefully kids aren't hungry coming to school."
Erin Harris, who has been teaching at Salisbury Morse Place School for 20 years, says their breakfast cart program serves a real need at their school. Between 90 to 120 students access their program daily.
"For some of our kids, I know that's probably the only food they're going to eat all day until they have dinner," Harris said.
Idrissa, a Grade 7 student at Salisbury Morse Place, says knowing he'll have breakfast waiting for him when he arrives at school is one less thing he has to worry about.
"When we come and we eat it, it's a privilege, its real good," he said. "We're really lucky."
Studies show that children who are well-nourished have improved memory, problem-solving skills, and creative abilities, yet, 31 per cent of elementary students and 62 per cent of secondary school students don't eat breakfast daily.
Studies have also shown that nutritional meal programs in schools can lead to improved attendance, health, learning and behaviour for students. Free meal and snack programs also help ensure students have access to essential nutrients throughout the day and can lead to food skills education opportunities while introducing them to new and healthy food choices.
"It's not just about getting something in a child's stomach, it's also looking at getting good nutrition into children and that's a really big focus for the council as well," Bloomfield said, adding the council provides schools with nutritious menus, workshops and online resources.
"We know when students get healthy nutritious food they learn better, eat better, feel better and are more likely to succeed," said Maxine Meadows, a CNCM program dietitian. "We really try and work with the individual school so they work within their budget to try and provide the best menu possible.
"It's always absolutely amazing to see what schools are able to do with what they have."
Being in a rural area has helped Roseau Valley School utilize various resources within the community. Jennifer Collette, the school's vice-principal, says they have a great partnership with their local grocery store.
"Calderwood's (Country Store) has done a really good job at being able to provide us with fresh ingredients," she said. "Being in a community like Dominion City, I feel like this community has so many partners and people really rally together."
She added their breakfast program helps their students start their day off on the right foot.
"I feel like our breakfast program does a really good job of being able to create that culture, that environment we want in our building," Collette said, adding they feed around 100 to 120 students per day. "You see kids in the hallways snacking and eating, it's really nice."
The program is also giving their students a chance to try new foods.
"I like that this isn't just happening in our building, it's going into our community, it's going back into people's homes."
Grade 11 student Julie Spence says there are so many benefits to starting the day with a nutritious breakfast.
"It's so important so that students can really learn and focus and be prepared to start the day."
Half of the schools supported by the CNCM choose to offer multiple programs throughout the day, which include a combination of breakfast, snack or lunch in a variety of settings. While some schools utilize a breakfast cart to serve their students, others allow students to come grab food from their cafeteria, while others encourage them to eat with their classmates.
Running a nutrition program is truly a school and community-wide effort, according to the council. Limited funding for buying nutritious food items as well as staffing and volunteer hours to operate the programs remain at the top of the list of challenges for these programs.
"So many programs in the province that are running well are running well because of a staff member or volunteer, that's key to a program," Harris said.
Canada is one of the few industrialized countries without a national school food program. Sweden, Finland, Estonia, Brazil, India, Japan, the United States, the United Kingdom, Germany, France and Italy all have universal school meal programs.
Establishing a universal meal program for all school-aged children at no cost was one of the Society's top recommendations for the province's Kindergarten to Grade 12 education review commission. The CNCM also prepared a written submission and participated in the public hearings for the commission, with key recommendations for increasing access to universal nutrition programs for Manitoba students.
The Society believes with Manitoba's high child poverty rate, particularly among Indigenous communities, a meal program could help reduce barriers to education. Proper nutrition also supports student learning and can improve children's long-term health, school attendance and social cohesion. A universal meal program is about lessening the barriers to education that exist.
Child poverty in Manitoba ranges from 12 per cent to 22 per cent, depending on the measure, and is higher than Canada's overall average, according to the province's 2017 Child and Youth Report. The percentage is even higher among Indigenous communities where one in two First Nations children, one in four Métis and one in four Inuit live in poverty, all higher than Canada's national average.
"Teachers often bring food from home to feed their students," says James Bedford, president of The Manitoba Teachers' Society. "And while many schools now have meal programs, the funding is cobbled together from multiple sources, none of which are reliable. Food isn't a frill—there's a direct relationship between addressing hunger and improved academic outcomes. Meal programs should have access to a consistent source of funding."
The Coalition for Healthy School Food, facilitated by Food Secure Canada, is seeking a $1 billion investment phased in over five years by the federal government in a cost-shared model to create a universal healthy school food program. The coalition is a group of nearly 50 organizations from across Canada advocating for a national school food program.
Brooklands School Principal Ferguson-Baird says he believes there should be an opportunity for Manitoba schools to apply and access funding for a meal program, but it shouldn't be mandatory.
"(Our) breakfast program draws a number of students who actually get themselves up and ready for school and they know that they can have breakfast," he said. "I think that if we believe and we understand that this is an opportunity for students to be healthier and to be stronger at school then it's something that we should probably make universally accessible
to schools."
---
— This story was originally printed in the October-November 2019 issue of The Manitoba Teacher Magazine