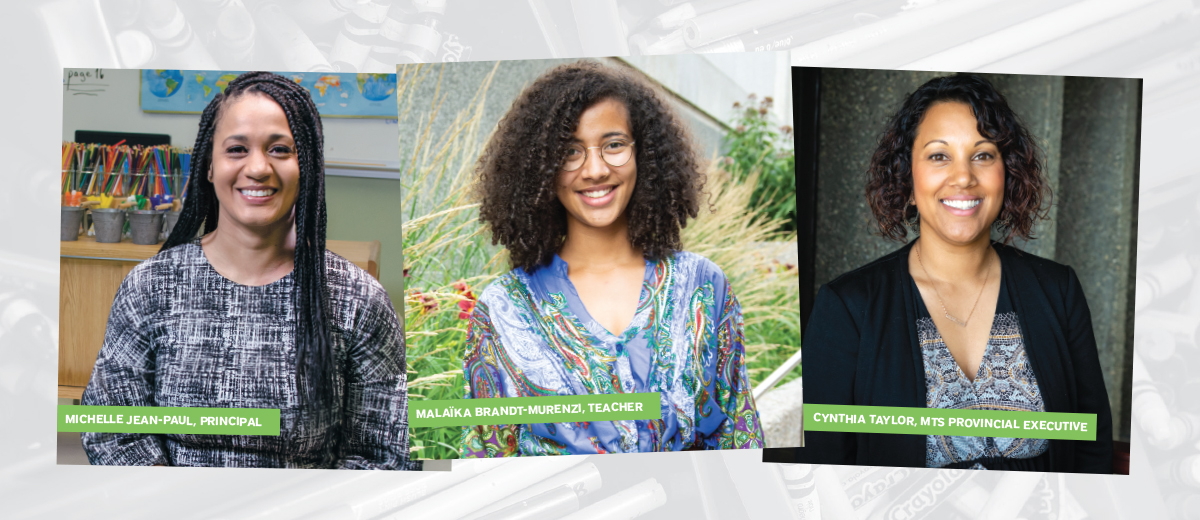 Story by George Stephenson
---
On any given school day at École James Nisbet, one or more of its 15 parent volunteers could be in the building helping students to read.
All 15 have education degrees but can't teach at their children's school. Their degrees were all earned in other countries, mainly India, and a string of barriers has prevented the teachers from getting certified in Manitoba.
For Principal Michelle Jean-Paul it's a constant reminder of the growing need to get more visible minority teachers into classrooms full-time.
As classrooms have become more diverse – with some school populations boasting some two dozen home languages – the faces at the front of the room have changed little over the past decades.
"School divisions have developed these diversity hiring policies, but my big question is what are we doing to change the system so that we're not expecting our newcomer families to assimilate to us, but we're actually adjusting to create a school system reflective of the kids that are in it?
"And not just the newcomer families, but our Indigenous families. For me, the question isn't necessarily that those people need to fit the system, but the system needs to change to fit the people it is supposed to be serving."
Jean-Paul has researched the issue extensively for her Masters and doctorate and was a founder of the Educators of Colour Network that helps visible minority educators become full-time teachers in Manitoba.
And beyond that, help them when they do get jobs.
The network's goal is to get more racial minorities at the front of classrooms whether through the certification of internationally-trained teachers or getting more visible minority students to become teachers.
"I interview in the faculties of education every year and the graduating class has not changed all that much from the time I was there," she says. "In large part, the people who are sitting in front of us are not representative of our schools."
Jean-Paul says she has known many minority kids who loved school, but didn't go into teaching after graduation.
"I think part of it is that lack of representation. They don't see themselves reflected, so they don't feel a true sense of belonging. If a teacher never looks like them, then what is a teacher? A teacher is a middle class white woman in most cases."
Cynthia Taylor agrees. She is a member of The Manitoba Teachers' Society provincial executive and student support teacher at Glenlawn Collegiate in Winnipeg.
"There's a lot more work that needs to be done," she says. "There needs to be more mentorship in the profession, especially for teachers of colour, and also for them to identify and eventually mentor other teachers."
And the need goes beyond having students see themselves in their teachers.
"The schools are changing and the demographic is changing. I think overall, we shouldn't just be talking about students and their comfort level, it's also about families," Taylor says. "We talk as teachers about making sure our schools are part of the community."
Parents may not feel comfortable advocating for their kids or asking questions of teachers when it may not appear anyone on staff can relate to their backgrounds.
"Sometimes just having someone who looks similar to them kind of brings down that barrier."
Malaïka Brandt-Murenzi has seen that first hand.
Brandt-Murenzi is an education student at St. Boniface University, having decided to become a teacher after earning a history degree and most of a science degree. She was working at the Manitoba Museum, teaching kids about science, while attending university.
"You see a kid who looks like you and they connect with you on another level because they don't usually see someone that looks like me in a teaching role or in a science role. I get to be the mad scientist, although in all the old movies you don't see a mad scientist who looks like me – even though I do have the hair."
Brandt-Murenzi, whose father emigrated from Rwanda, recalls a specific incident when she taught a group of kids some words in Kinyarwanda to say to her father who works for the Francophone school division.
"This little kid – super shy – puts up his hand and some kids came up after and said their parents spoke Kinyarwanda too. That was the first time I was able to bond with someone over that and they were so excited and I was so excited.
"If I interact with someone who lives outside the stereotype one might put them into, we can connect over that and it's really funny because people would think that you're different, but you're different kinds of different.
"For example, if I were to wear a scarf in winter and someone were to assume I was Muslim and then they were to speak to me differently, I would be so weirded out by that because you should speak to everyone the same way. You're not going to assume that I am someone or something else."
Michelle Jean-Paul says that can play out for visible minority teachers, especially if they are the only person of colour in a school.
"I still, if I make a decision that people don't agree with I get the challenge that 'they might do things differently where you're from' or questions about my competency or my level of education."
Jean-Paul's father, also a teacher, was from Haiti and she was born and raised in Winnipeg. She has two Bachelor's degrees and a Masters. Throughout her education she had one teacher of colour.
"I can't imagine for the newcomer teacher trying to penetrate the system who was hired with great intention, but with no work being done within that school or system to challenge the way that people are thinking.
"Hire them, yes, but hire them in numbers that are great enough that they are not going to feel as though they are an only. You can actually create systemic change. Once you hire racialized minorities, you must support them."
Cynthia Taylor, who can't recall a single teacher of colour when she was a student, says part of that is just getting potential teachers into schools and helping them navigate a system that is truly foreign.
"How do we help those teachers, not necessarily with the certification process, but how do we help them more with the Canadian context so they are able to take their skills, their background, their experience and be able to know there are differences here in Canada.
"How do you get into the school system without working in schools? They are looking for that experience so they come onto a sub list. They're trying to get experience but you just sort of hop from place to place and that mentorship never happens for them."
Jean-Paul sees that with her parent volunteers.
"They are all certified teachers who are choosing to work as substitutes, education assistants. They are working restaurant jobs. They are doing whatever they can to help their families transition to life in Canada. They are prioritizing their kids over themselves and their careers. We are talking about educators with doctorates who were heads of schools in their home countries who are subs at best here."
Brandt-Murenzi has no illusions about the system she wants to enter – she's already faced at least unconscious bias by being a person of colour and a woman – but says she hopes she can be an agent of change.
She remembers how new students were viewed when she was in school.
"If there was a new kid and they were white they were a new kid and if they were a new kid and they were brown they were an immigrant. We had new, white kids from France and they were new kids and we would have a brown person from a school three kilometres away and they were an immigrant."
She says her experiences, being treated different by different people can help.
"I think it helps me connect with people who may not feel that they fit in. I think it is an important thing in a classroom, especially with younger kids that are still working with their sense of self and just figuring out why they feel they don't fit in. You have to make clear the differences that you see are good things and when someone has a different culture, you get to learn of a new way of seeing the world.
"I'm just really excited to become part of the environment of learning and to teach people non-judgmentally and open-mindedly and having more people who think like that, whether they are people of colour or not.
"If the generation younger than you is dumber than you, that's your fault."
---
— This story was originally printed in the September 2019 issue of The Manitoba Teacher Magazine