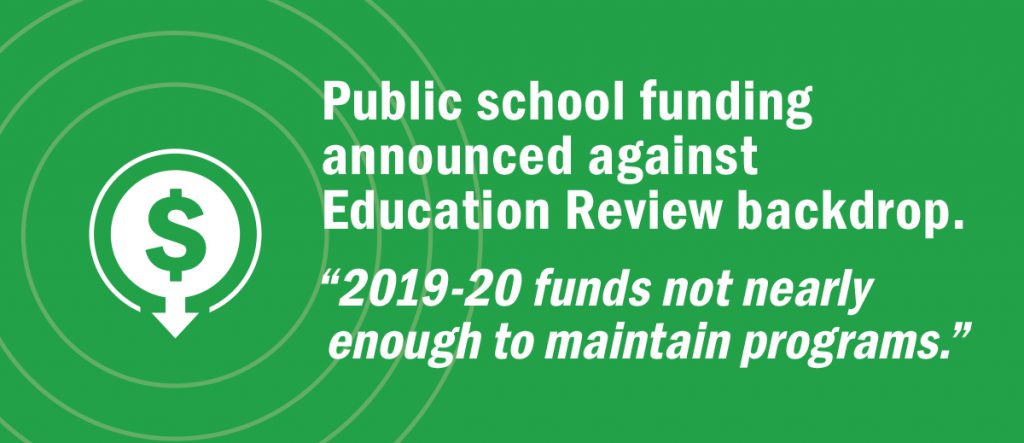 On January 24, 2019, the Manitoba government announced public school funding for 2019-2020, a mirror image of last year's commitment which, factoring in the rate of inflation, amounts to a third annual cut in funding to Manitoba schools.
Public Schools Funding Announcement 2019/20
This MTS News Release was shared with all Manitoba media outlets, plus provincial executive and staff.
Public school funding announced against Education Review backdrop
2019-20 funds not nearly enough to maintain programs
For the third year in a row, the Manitoba government has announced a real dollar drop in funding for public schools. And the prospect of doing more with even less next school year against the background of a major K-12 education review does not sit well with Manitoba teachers.
"No matter how you slice it, a 0.5% "increase" doesn't even play catch up to roughly 2% inflation and increases in student enrollment," says Manitoba Teachers' Society President Norm Gould. "Teachers face more diverse student needs than ever. This announcement will not help."
In addition, Gould says the province is once again directing divisions to cap increases to their local education property tax at two per cent for the 2019-20 school year and will ask divisions to continue to cut administrative costs.
A detailed backgrounder sheet distributed along with today's government news release detailed winners and losers among individual divisions, "with fewer getting increases", said Gould.
As for yesterday's announcement of the K-12 Education Review Commission, the MTS President says the Society is onboard.
"We are pleased to see the education review getting underway and we're hopeful that the recommendations will address funding shortfalls for public schools so that students can get the resources and help they need in every corner of the province."
---
Points to Consider
The Manitoba Education Funding Announcement (January 24, 2019)
Manitoba's Public K-12 education system is funded (on average) 60% by the provincial government and 40% by the divisions themselves.
The Provincial Education funding announcement for the 2019-20 school year touts a $6.6 million increase over the 2018 -19 allocation of $1,322.8 million.
The increase included $4.9 million for capital which if removed leaves a mere $1.7 million rise for operating the provincial public school system. This amounts to 0.1%.
Considering inflation, for a third year running, this is a cut. More so, on a per pupil basis, when one again factors in provincial enrolment growth of about 1%.
The funding announcement also outlines the winding down of the Tax Incentive Grant (T.I.G.). Until last year, the T.I.G. (a $61 million pot of money unrelated to the Education Funding Formula) was used to keep mill rates lower in those divisions that had subscribed to it. Money flowing from this fund had been frozen at the same level for many years.
For the second year of a six-year phase out, $8.4 million was removed from the T.I.G. fund. The money still flows to divisions (via the formula) it just flows to different ones.
In essence, while some divisions did manage a modest provincial increase for 2019-20, most (i.e. 21 of 38) will receive less school money next year.
Complicating matters further, is the provincial government's directive that School Divisions restrict property tax increases to 2%. This limits a School Board's ability to mitigate the damage done by what is the continuing financial offloading by the province onto the divisions.
---
Manitoba Government News Release
https://news.gov.mb.ca/news/?item=44961&posted=2019-01-24
How will this announcement affect my local?
---
Media Round Up: Education Funding Announcement and K-12 Review
There has been a flurry of media activity leading to both the Education Review and Funding Announcements. Click below to access all of it including the MTS President's comments.
Education Funding – January 24, 2019
Winnipeg Free Press
Province adds $6.6M to public schools funding pool
https://www.winnipegfreepress.com/local/province-adds-66m-to-public-schools-funding-pool-504814172.html
MTS President's WFP Op-Ed – 'Teachers Support Thorough Review'
https://www.winnipegfreepress.com/opinion/analysis/teachers-support-thorough-review-504906231.html
Winnipeg Sun
Manitoba to increase school funding by 0.5% or $6.6 million
https://winnipegsun.com/news/news-news/manitoba-to-increase-school-funding-by-0-5-or-6-6-million
School Divisions will be asked to trim again
https://winnipegsun.com/news/news-news/school-divisions-will-be-asked-to-trim-again
This is no way to fund public schools: Brodbeck
https://winnipegsun.com/opinion/columnists/brodbeck-this-is-no-way-to-fund-public-schools
CBC
Funding boost of 0.5% shows 'a government that doesn't want to invest in education': WSD trustee
https://www.cbc.ca/news/canada/manitoba/manitoba-school-funding-1.4991360
Les ÉFM jugent la hausse du financement de l'éducation insuffisante
https://ici.radio-canada.ca/nouvelle/1148988/efm-hausse-financement-education-province-insuffisante?depuisRecherche=true
CTV
Manitoba government holding the line on school funding this year
https://winnipeg.ctvnews.ca/manitoba-government-holding-the-line-on-school-funding-this-year-1.4267697
Global News/CJOB
Manitoba holds the line on school funding at 0.5 per cent—the same as last year
https://globalnews.ca/news/4885038/manitoba-holds-the-line-on-school-funding-at-0-5-per-cent-the-same-as-last-year/