GAME - GAM3
Gaming Association of Manitoba Educators (GAME)

Conference Title: GAM3

Location: Virtual

Date: October 22, 2021

Program

8:15 am - 8:30 am - Log into Teams
8:30 am - 8:45 am - Opening Remarks
9:00 am - 9:45 am - AM Sessions
10:00 am - 10:45 am - Open online gaming (details TBA)
11:00 am - 12:00 pm - Keynote
12:00 pm - 1:00 pm - Open online gaming
1:00 pm - 1:45 pm - PM Sessions
2:00 pm - 2:45 pm - Open online gaming (details TBA)
3:00 pm - 3:30 pm - Final Thoughts/Prizes

Registration Fees and Membership Fees:

Conference Fee..................................................$40
Membership Fee................................................$20
Membership and Conference Fee...................$30
Student Membership and Conference Fee....$30

Membership includes teacher discounts for game stores. It also includes all GAME events throughout the year (including refreshments).
gametolearn.ca

Email us at info@gametolearn.ca

Registration:
Online registration is now open and will remain open until Tuesday, October 19, 2021. Online payment is due at the time of registration and will be done through your PayPal account, credit card or Visa debit.

If you have any questions, please contact Mike Heilmann or Justin Bell at info@gametolearn.ca.

________________________________________________________________________________________________________________


Sessions - 9:00 AM-9:45 AM
A101 - The Role of Role-Playing in the Classroom

When teaching your students new concepts and content, don't just show a Powerpoint and drone on. Have them step into someone else's shoes while being active and engaged with their learning: try role-playing! Learn about different RPG systems and settings that can be adapted to your content area, methods for differentiation in your role-plays, and some tips and tricks for teachers with little or no Dungeon Master experience. Plus, discuss strategies and limitations for incorporating role-playing in your class with other like-minded professionals.

Presenter: Jay Lubiansky

Suitable for: All Educators

9:00 am - 9:45 am

Platform: Virtual


---
A102 - The Game Media Analysis Classroom Activity

This session will give an overview and chance to participate in the "Game Media Analysis" classroom activity. This game-based learning project connects to language arts and media literacy and can be implemented at any grade level. It draws upon academic research and literature on using games in the classroom. Students explore form, content, mechanics, and potential issues with games. They then play either tabletop or digital games in class while discussing and creating media analysis posters. These posters then serve as a catalyst for other projects such as a critical game review or a short video.

Presenter: Niall McFadyen

Suitable for: All Educators

9:00 am - 9:45 am

Platform: Virtual




---
A103 - Minecraft: Manito Ahbee Aki

A session focused on the use of Minecraft Education Edition with a focus on sound pedagogy and an in depth look at Manito Ahbee Aki.
Participants will leave with an understanding of how to incorporate the game in all curricular areas, have time to design lessons and units, and run through Manito Ahbee Aki, the Minecraft game that has become a global success story!
See video for more.

https://www.youtube.com/watch?v=Q3r_48XAF_Y

Presenter: Chris Heidebrecht and Mark Lesiuk

Suitable for: All Educators

9:00 am - 9:45 am

Platform: Virtual


---
A104 - Canadian Confederation Resource Trading Game

Getting students interested in social studies can be a challenge, especially if the topic is Canadian Confederation. To teach this topic to grade 6 students, I have created a resource trading game where student groups learn about what life was like in different provinces in the 1860s, and how this influenced their decisions to join confederation. After researching, students trade resources to build railways and create a national army. After trading, groups need to decide whether to join together to make a new country called Canada.

Presenter: Scott Van Caeseele

Suitable for: Middle Years

9:00 am - 9:45 am

Platform: Virtual


---
A105 - Middle Years eSports in MB and beyond!

This session will explore the world of competitive gaming (esports), and how they can be used to engage your middle years students. We'll introduce you to Middle Years Esport Manitoba and Esport Canada, and how your school can get involved! Teachers of all gaming backgrounds are welcome, with a special emphasis on middle school.

Presenter: Juel Woitowicz

Suitable for: All Educators with a special emphasis on Middle Years

9:00 am - 9:45 am

Platform: Virtual


---
A106 - Running a Dungeons and Dragons Club

I've started a dungeons and dragons club at every school I've spent time in and I have many tips and tricks as to how to get it up and running.

Presenter: Jonah Simmonds

Suitable for: Grades 5 - 12

9:00 am - 9:45 am

Platform: Virtual


---
A107 - Examining Critical Thinking and Problem Solving Through Board Games

This session will look at the process of critical thinking and problem solving to begin. Then we will look at a variety of games that teach the skills and processes involved in problem solving. We will end the session by looking at how these ideas can be implemented in a classroom.

Presenter: Dean Olfert

Suitable for: All Educators

9:00 am - 9:45 am

Platform: Virtual


---
Sessions - 11:00 AM-12:00 PM
Keynote - From Player to Creator: Interactive 3D in the Classroom

This session will introduce educators to interactive 3D and real-time technology across various industries, including advertising, game development, architecture, engineering, automotive, film, and entertainment. Steve Isaacs will share teaching resources using Fortnite Creative, Twinmotion, and Unreal Engine. Educators will leave with an understanding of the suite of Epic Games' 3D interactive resources and the potential they have to prepare students for real-world skills using industry-standard tools.

Presenter: Steve Isaacs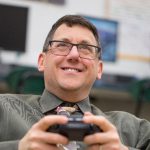 Steve Isaacs is Education Program Manager at Epic Games. His mission in this role is to support educators and students in exploring career opportunities that leverage interactive 3d skills. Prior to his role at Epic, Steve was a public school teacher for 28 years, teaching game design and development as well as other courses related to creative uses of technology. Steve enjoys spending time with family and friends. His hobbies include video games, biking, snorkeling, hiking and live music.

11:00 am - 12:00 pm

Platform: Virtual



---
Sessions - 1:00 PM-1:45 PM
P201 - The Role of Role-Playing in the Classroom

When teaching your students new concepts and content, don't just show a Powerpoint and drone on. Have them step into someone else's shoes while being active and engaged with their learning: try role-playing! Learn about different RPG systems and settings that can be adapted to your content area, methods for differentiation in your role-plays, and some tips and tricks for teachers with little or no Dungeon Master experience. Plus, discuss strategies and limitations for incorporating role-playing in your class with other like-minded professionals.

Presenter: Jay Lubiansky

Suitable for: All Educators

1:00 pm - 1:45 pm

Platform: Virtual


---
P202 - The Game Media Analysis Classroom Activity

This session will give an overview and chance to participate in the "Game Media Analysis" classroom activity. This game-based learning project connects to language arts and media literacy and can be implemented at any grade level. It draws upon academic research and literature on using games in the classroom. Students explore form, content, mechanics, and potential issues with games. They then play either tabletop or digital games in class while discussing and creating media analysis posters. These posters then serve as a catalyst for other projects such as a critical game review or a short video.

Presenter: Niall McFadyen

Suitable for: All Educators

1:00 pm - 1:45 pm

Platform: Virtual


---
P203 - Middle Years eSports in MB and beyond!

This session will explore the world of competitive gaming (esports), and how they can be used to engage your middle years students. We'll introduce you to Middle Years Esport Manitoba and Esport Canada, and how your school can get involved! Teachers of all gaming backgrounds are welcome, with a special emphasis on middle school.

Presenter: Juel Woitowicz

Suitable for: All Educators with a special emphasis on Middle Years

1:00 pm - 1:45 pm

Platform: Virtual


---
P204 - Games that Promote French Language Development in the Early Years Classroom

A virtual demonstration of board, card, and spoken games that my students love and that get them thinking and speaking in French at the same time.

Presenter: Nicole Bureau

Suitable for: Early Years

1:00 pm - 1:45 pm

Platform: Virtual


---
P205 - How to Start an eSports Club

Are your students constantly talking about video games? Maybe you've heard about how they can be used in an educational or varsity setting but you don't know where to start. This session will guide you through some practical steps to help get your club off the ground. You'll learn about how to get set up, what kind of gear you'll need, how to host a practice (in school AND remote), and how to start competing or playing friendly matches, along with some tech/network troubleshooting tips. Teachers of all gaming backgrounds are welcome, with a special emphasis on middle and high school.

Presenter: Melissa Burns

Suitable for: All Educators with a special emphasis on Middle and Senior Years

1:00 pm - 1:45 pm

Platform: Virtual


---