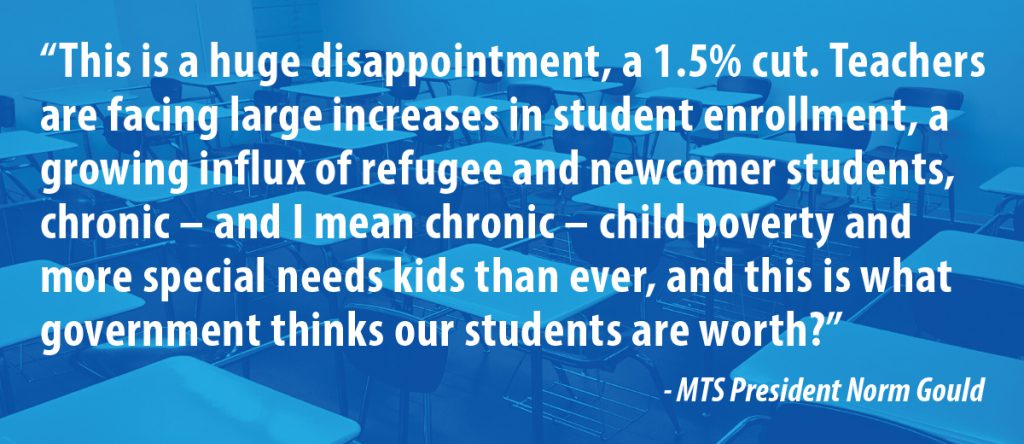 Public school funding announcement 'huge disappointment'
Teachers question government's commitment to kids
The Manitoba government has announced what effectively amounts to a 1.5 percent drop in funding for public schools for the 2018-19 school year—and it's not sitting well with Manitoba teachers.
"This is a huge disappointment, a 1.5 percent cut," says MTS President Norm Gould. "Teachers are facing large increases in student enrollment, a growing influx of refugee and newcomer students, chronic – and I mean chronic – child poverty and more special needs kids than ever, and this is what government thinks our students are worth?"
Gould says provincial coffers will be flush with an increase of $290 million in new cash from Federal transfers next year. "This makes it clear that our students are an afterthought in this announcement – and that's a slap in the face for all our members who work hard every day to help students reach their full potential."
An MTS public poll conducted just weeks ago showed that fully 93 percent of Manitobans think the Manitoba government should increase public schools funding or at least maintain the current level of support.
"This is the lowest funding in decades and sits at less than a third of the rate of inflation," says Gould. "This paltry sum despite an expanded "cradle to career" mandate for Manitoba Education?
"It's definitely not a proud moment for this government."