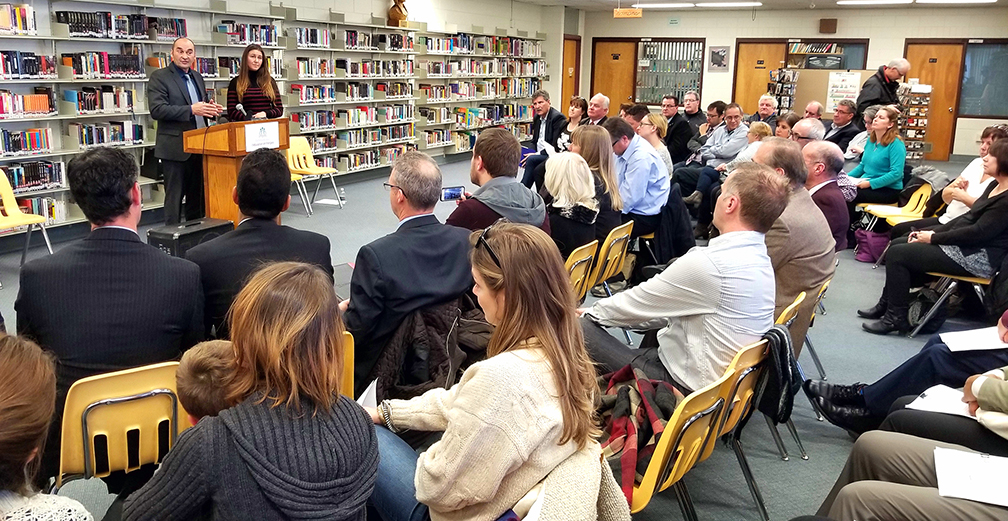 A large group of Manitoba education partners says over 30,000 public school students in Manitoba will suffer a reduced quality of K-12 education because of the Manitoba government's gutting of the Bureau de l'éducation française (BEF) – and the cutting of its Assistant Deputy Minister (ADM).
Partners for French Education had written a letter to Manitoba Premier Brian Pallister asking for a meeting to outline their concerns. The premier's office acknowledged receipt but Pallister has yet to respond to the meeting request. Today (Nov. 13), the partners decided to hold a news conference at Collège Louis-Riel to make their concerns public.
Partners for French Education says the BEF creates and administers programs on French curricula, educational support services, Official Languages commitments, and libraries and materials in Manitoba. It also provides professional development to teachers. And the Manitoba government's recent cuts are putting all French-language and French immersion students' educations at risk.
"The BEF's ADM used to bring issues in French-language education directly to decision makers in government," says Bernard Lesage, president of the Division franco-manitobaine. "Without that direct access, parents and other stakeholders have lost their voice at the table. Not only has the ADM been cut, but some of the Bureau's employees have already been cut or reassigned."
"French-language education is not simply the translation of English education," says Norm Gould, president of The Manitoba Teachers' Society, "it's a unique educational and cultural experience with a curriculum of its own. A fully functioning BEF is essential to the quality of French-language education that Manitoba teachers and schools provide to students."
Christian Monnin, president of the Société de la francophonie manitobaine says pulling the plug on the Bureau demonstrates the Manitoba government's "lack of understanding of French-language education, and a lack of respect for French minority language students, parents and partners."
"We expect a quick restoration of government funding and resources to the BEF," says Brigitte L'heureux of the Fédération des parents du Manitoba, "and the immediate appointment of an ADM to properly represent French-language stakeholders' concerns to the Manitoba government."