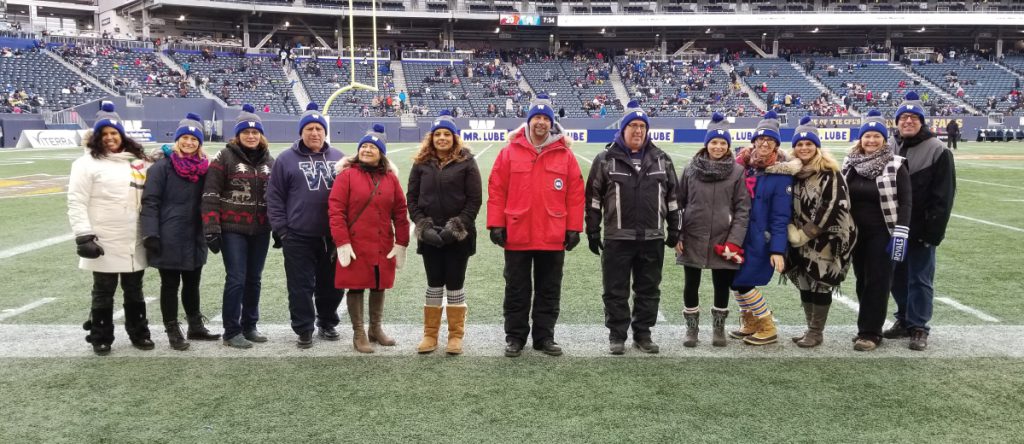 Frigid winds blustered around the stadium at halftime. But MTS President Norm Gould and the 12 parka-clad Manitoba teachers we honoured at Investors Group Field at the last Bomber game had a glow about them.
There they were on up on the jumbo HD video board being introduced to 25,000 Winnipeg Blue Bomber fans – all the while smiling, waving, and smartly repping their 15,000 amazing colleagues across the province. Then, in a special shoutout, every teacher at Investors Group Field was asked to stand.
The occasion was a special MTS/Winnipeg Blue Bombers Teacher Appreciation event aimed to highlight the positive influence public school teachers have on students.
The Society's My Teacher My Story campaign asks Manitobans to share their stories about teachers who've made a big impact in their lives.
The teachers honoured at Investors Group Field were Lauren Dyck, Amber Britsky, Megan Young, Kirsten Mangin, Robert Marcoux, Mike Johnston, Faridah Shams, Kim Guimond, Wayne Schultz, Shelly Dankochik, Nadia Krachenko-Chaput and Anita Maharaj.
As for the game against B.C., it ended in a 36 – 27 loss for the W, but they'll still be heading to the playoffs and Manitoba teachers will be cheering them on.
If you'd like to share your story about an amazing Manitoba teacher you can post to our webpage or to our social media sites using the hashtag #myteachermystory.