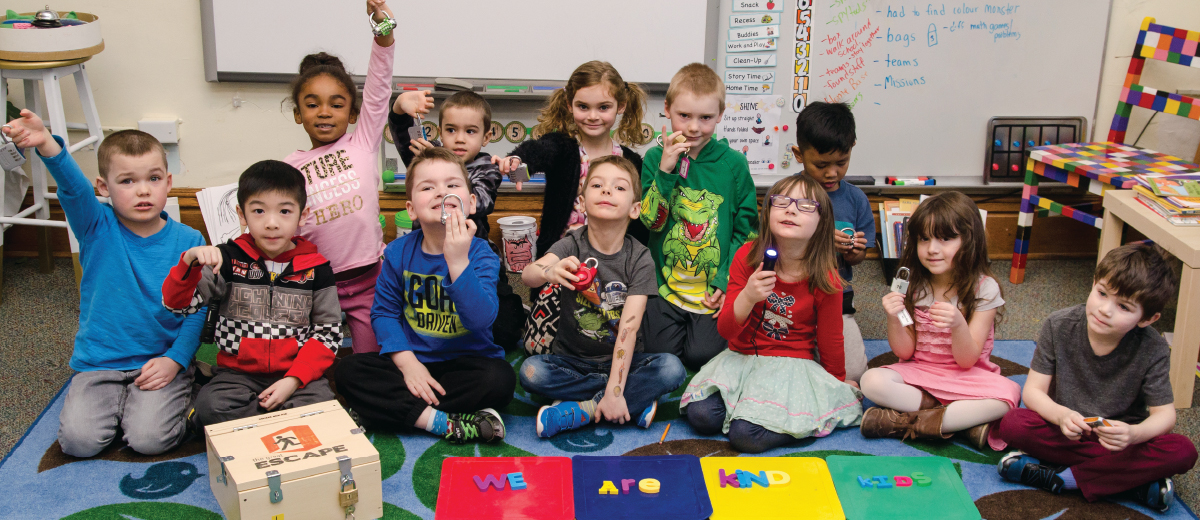 Story by Matea Tuhtar
---
The bell rings like on any ordinary day. But as your students pile into the classroom they're met with a mysterious wooden box covered in locks, and a note that reads:
You are an archaeologist and you have just uncovered a bone in an Ancient Egyptian Pharaoh's tomb. As you lift the bone carefully from the dirt floor, the chamber door begins to creak and dirt begins to fall. The door slowly begins to lower. A shadow blocks the light from a hole in the tomb ceiling, projecting the number 45 on the wall. You realize the stories are true! You only have 45 minutes to find the clues around the room to unlock the boxes that will give you the key to escape the chamber. If not, the keyhole in the chamber door will disappear into the earth and you will be stuck in the chamber forever. Can you escape?
Puzzle-based escape rooms have become a phenomenon in North America in the last few years. They offer a thrilling premise: get locked in a themed room with a team of players and solve clues to escape before the time is up. They're fun, exciting, and addicting, and inevitably the concept has made its way into classrooms – much to the delight of St.James-Assiniboia School Division's Curriculum Co-ordinator Andy McKiel.
"Kids just love it! They're learning without knowing they're learning!"
McKiel began thinking about puzzle games after visiting an escape room with his family. He did some research and discovered a website called Breakout EDU which created puzzle boxes and resources for games to use in classrooms. Much like an escape room, students find clues and solve puzzles to open the locks on the box and win the game within a certain time limit.
"There's a lot of key players in the tech world that have gotten behind this movement and created this website," says McKiel. "So there's a lot of resources and videos that make it really easy for teachers so they don't have to design everything from scratch."
McKiel first decided to test out the escape boxes at his division's administrator's retreat.
"We thought it would be a great way of looking at how we really get at teaching some soft skills about communication, collaboration, creativity, critical thinking and citizenship. Those are some of the concepts these boxes promote."
Breakout EDU sells puzzle boxes on their website, but at the time the wait time to order the boxes was too long so the division's director of technology Rob Carnegie built the wooden boxes.
"We ran all around the city to find all the different locks for the boxes including directional locks, number locks and letter locks. Now we offer those boxes in our media library."
All the work was worth it because the puzzle boxes were a hit with the staff.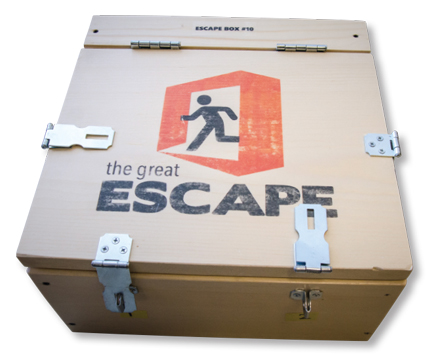 "We thought it would be a great way of looking at how we really get at teaching some soft skills about communication, collaboration, creativity, critical thinking and citizenship. Those are some of the concepts these boxes promote."
– Andy McKiel
"People loved it because it was just so unique and different," says McKiel. "There was just a huge buzz in the room. We had eight table groups, working against each other. The time just flew by.
"So, after that first time we thought 'we're onto something'".
Today the division has 16 boxes ready to be checked out which can be customized to all grades. When a teacher books them out they come with a variety of locks, a flashlight and a smaller lockbox that can go in the bigger one.
"When a teacher signs out a kit they get an empty box with all these parts and some people don't know what to do with it. So obviously it involves some guidance and support so that teachers know what's possible."
The Breakout EDU website has a lot of ideas, examples, facilitation tools, and a game library that shows you all kinds of different games, from starter games to more difficult challenges. Each game will tell you which subject it's geared for, what grade levels it works best for, and if it's better for the whole class or smaller groups. They tell you how long it should take to solve and what the lock combinations should be to solve the puzzle.
It gives you a step-by-step guide to execute the game, along with a list of resources to go along with it. Some even have video tutorials.
Some games that are available on the Breakout EDU website include the above mentioned Escape from the Pharaoh's Tomb, as well as games like Alien Invasion which focuses on the science curriculum and uses calendars, maps and QR codes to solve the puzzles, Amnesium which uses math concepts to help save your brain from a powerful chemical that makes you forget everything, and Time Warp where players have to navigate the history of communication in order to escape and learn various forms of communication such as hieroglyphics and Incan knots.
"It's a really good start and you can build from there and customize the games to your own needs," says McKiel. The site also has a component where people can submit games they've created.
Seeing what teachers are doing with the boxes has been amazing, says McKiel. "We've had amazing feedback. I get invited to a lot of classrooms just to see what they're doing and it always looks so different for every class. It's super fun, kids just love it, and you can really get creative with it. It's a different and exciting way of learning."
Eva Dowd can attest to that. Her Linwood School kindergarten classes worked with the puzzle boxes last spring with great success.
"Last year at our staff party, the teachers did the escape box. I thought it was very interesting and I know how much kids like to do puzzles and locks. And one day one of my afternoon kids was playing spy in the hallway, with glasses and spying on the other classrooms and I thought that would make a great connection."
Dowd's focus that month was on math, so she figured out a way to incorporate math with the boxes and spying.
"I went on the website and that was our building blocks. So we tweaked the games to make them appropriate for my kids and make them spy appropriate missions."
The kids figured out codes by counting, putting numbers in order, and sorting by color using alphabet blocks. Since it was also I Love to Read Week, their prize at the end of every mission was to find a book. One of the books was hidden under a lock in the dark and then was read by using a black light flashlight.
"So it was literacy and numeracy put together. And they loved it. Every day they'd come in and the box would be sitting on the table and they couldn't wait to get their hands on it. Totally engaged."
Dowd plans on checking out the puzzle boxes again in the future.
I'd for sure recommend it to other teachers. It took a little time to put it together but once it's done you can easily adapt it to the next class, it's definitely worth it!"
Check out the Breakout EDU website at: www.breakoutedu.com. Games are password protected to deter students from finding out clues. Use the password "showyourwork" to view the game details.
---
— This story was originally printed in the September 2017 issue of The Manitoba Teacher Magazine