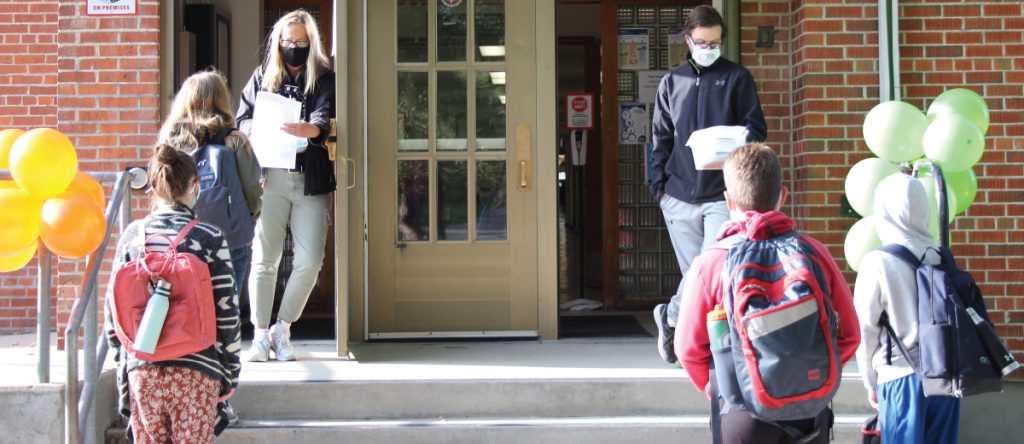 August 5, 2021
---
This afternoon, Education Minister Cliff Cullen and Chief Provincial Public Health Officer, Dr. Brent Roussin, announced plans for reopening K-12 schools in Manitoba this fall. They noted that all public health measures announced today are subject to change as circumstances relative to the pandemic evolve. Minister Cullen and Dr. Roussin identified four priority areas respecting the return to school:
Priority 1: Health and Safety
Priority 2: Promoting Mental Health and Well-Being
Priority 3: Assessing and Addressing Learning Impacts
Priority 4: Vaccination Outreach and Promotion
The priorities are outlined here, in the Province's Restoring Safe Schools Planning Guide for 2021-22, and its Restoring Safe Schools: A Guide for Parents, Caregivers and Students.
MTS vice-president Nathan Martindale was quick to respond, calling on the government for stronger measures to ensure student and teacher safety:
"Parents, teachers and students must feel safe for a September return to school.  During the entire pandemic, MTS has told the government that the safety of students and members in schools MUST be the number one priority. Lifting the mask mandate is dangerous and premature. It puts students and staff at risk. Let's remember that breakthrough cases are a fact of life now – even among children. Delta variant cases are real – even among children. And some children will be attending school in low-vaccination areas."
Below we've outlined announcement highlights and the MTS response.
Announcement Highlights
MTS Response
Back-to-School

With high rates of vaccination and low rates of community transmission, school in September resumes with near-normal operations at Caution Level yellow on the Pandemic Response System.

All public health guidance will be reviewed before the beginning of the school year and on an ongoing basis to ensure that the measures are responsive to the public health situation at that time. Additional measures made be implemented regionally as required.

The best place for students is in a physically safe classroom with their teachers.

While school protocols may be going back to pre-COVID states, uncertainty remains about a fourth-wave threat, K-6 students not eligible for vaccination, and the efficacy of the vaccine with VOCs.

Mask Use

The use of masks is recommended for all students, staff, and visitors. Public Health officials will continue to monitor and adjust guidance as necessary.

Masks and PPE will continue to be available for school use, and funding has been provided.

Given the relaxation of so many precautionary measures, masks must be mandated.

Framing this as a "recommendation" puts divisional leaders and principals in an untenable position and it opens the door to inconsistency. It also transfers the responsibility for public health onto schools and businesses, among others, creating inconsistent safety standards across the province.

Staff and students are used to wearing masks – loosening that practice and then potentially having to reinstate it will cause unnecessary disruption.

Communicable disease prevention is the responsibility of public health. Our students, school staff and families have a right to be safe, and it is incumbent upon the Manitoba government to proactively own that responsibility.

Immunization

The Vaccine Implementation Task Force will bring forward plans for school based COVID-19 immunization campaigns for youth aged 12 to 17 and children 5 to 11 years of age (once approved) to begin in the fall.

Schools located in communities with lower vaccine uptake will be prioritized to boost vaccination rates to help prevent outbreaks

World-wide, public health has consistently indicated that immunization is the key to managing adverse effects of COVID including impact on the education and healthcare systems. The Society supports any effort to increase access to vaccination.

Case Management

The current level of testing, case identification, contact investigation, and case management will be maintained.

With declining cases of COVID-19 and increased vaccinations, it is anticipated that case and contact management will evolve over time as the province transitions to normal processes.

Contact tracing is a responsibility of Public Health, and yet for the past year and a half the responsibility for contact tracing has fallen on the shoulders of school principals. The government is counting on COVID cases continuing to fall in Manitoba, however, with a fourth wave of the pandemic looming, this position is unreasonable. The government must make provision for adequate Public Health staff to ensure accurate and timely contact tracing takes place this school year. Data transparency is imperative.
Funding

$58 Million has been allocated to staffing, technology, health and safety, PPE, remote learning, and recovery learning.

Manitoba teachers welcome the allocation of resources for health and safety and anticipate prompt action on the enhancement of HVAC and other needed ventilation upgrades this fall.
Ventilation

Guidance has been updated and focus on maintaining ventilation and continuing to ensure that all mechanical heating, ventilation, and air conditioning systems are working properly. Schools should conduct inspections and implement upgrades.

It is the employer's responsibility to meet and enforce safety standards and protect its employees.

It is the government's responsibility to provide funding and resources to meet those safety standards (class sizes that enable adequate distancing, enhanced ventilation, PPE, etc…), to report and respond to changing conditions and needs related to the pandemic including VOCs and increasing cases/school outbreaks.

The Society expects prompt action on the enhancement of HVAC and other needed ventilation upgrades this fall.

Mental Health

The province is developing a continuum of mental health and other well-being supports for K-12 schools. Partnerships with community organizations like The Manitoba Teachers' Society, the Canadian Mental Health Association and the Manitoba Advocate for Children and Youth will continue.

The mental health needs of school staff and students have increased dramatically throughout the pandemic. The toll of COVID-19 on teachers, in particular, has been substantial. The Manitoba Teachers' Society recognizes that teacher mental health support is more complex than the availability of extended health benefits and counselling services. Our commitment to teacher mental health is aimed at providing sustainable services with equitable, inclusive and timely access to mental health supports. The Society recognizes that educators have unique needs that require a comprehensive complement of mental health services.
After more than 18 months of living with and managing COVID, our members have learned a lot about the variety of safety practices that reduce risk and provide layers of protection including assessment and arrangement of spaces and programming. We applaud their work and efforts which cannot be made in vain due to an overly ambitious return to school plan that could take us backwards instead of propelling us forward.
MTS will continue to speak out on behalf of Manitoba teachers and the students and families who have, and will continue to depend on them for education, safety and security. The government must do all in its power to assure Manitobans of a safe and sustainable return to school.