Teachers of English as an Additional Language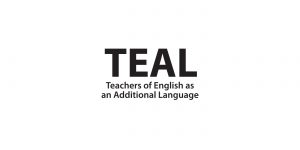 Literacy Through an EAL Lens
Dakota Collegiate, 661 Dakota St, Winnipeg
9:00AM – 9:30AM
Welcome by Co-Chairs
Mojgan Asili and Surafel Kuchem
Welcome by TEAL President
Melanie Davlut
Keynote Introduction
9:30AM – 10:30AM
Keynote
Dr. Kristiina Montero
10:30AM – 11:00AM
Coffee Break
11:00AM – 12:00PM
Keynote
Dr. Kristiina Montero
12:00AM – 1:15PM
Lunch
1:30PM – 2:15PM
Breakout Sessions (6 sessions)
2:15PM – 2:45PM
Coffee Break
2:45PM – 3:30PM
Breakout Sessions (6 sessions)
---
The TEAL Manitoba SAGE conference is the largest annual professional learning event in Manitoba for K – 12 educators of students learning English as an additional language. This includes specialists, teachers, support teachers, and others interested in EAL learning in the K – 12 educational setting.
This year, we are very excited to present to you Dr. Kristiina Montero, an expert in EAL education and Early Literacy Instructional Interventions. In addition, there are six sessions in the afternoon on different topics that participants can choose from.
Humanizing Pedagogical Practices for ELLs with Refugee Backgrounds: Life Stories and Multimodal Identity Texts.
Dr. Kristiina Montero is an associate professor in the Faculty of Education at Laurier. She received her PhD in Language and Literacy Education from The University of Georgia (Athens, GA) in 2004.
Prior to her academic career, Dr. Montero was an FSL and ESL teacher in Ontario and Quebec. Dr. Montero's research and practice are framed in community-engaged scholarship that aims to use the space of research to engage with practical problems defined by community stakeholders whose solutions are of interest to a larger community. One of her overarching goals is to give voice to marginalized individuals and communities.
Her most recent work examines the impact of early literacy instructional interventions on the English language and literacy development of low literacy adolescent refugees, also known as students with limited or interrupted formal education. To extend her work with adolescent refugee students she completed the Global Mental Health: Trauma and Recovery Certificate Program through Harvard University (2015).
Her research can be found in journals such as TESOL Quarterly, The Journal of Adolescent and Adult Literacy, The Journal of Children's Literature, Middle School Journal, and Oral History Forum histoire oral.
Participants will sign up for break-out sessions during registration. Please be aware
that some sessions repeat during both time slots. There is a maximum capacity for
each session, so register early to ensure you can attend your session of choice.
Merging Student Voices, Digital Text, and Language Experience Approach Methods to Facilitate English Language Print Literacy Development
Dr. Kristiina Montero |

1:30PM – 2:15PM; 2:45PM – 3:30PM
In this session, participants will learn how to develop student-generated texts into levelled readers and learn how to use these texts to facilitate print literacy development using the principles of early literacy instructional methods. Educators can use students' life stories or have students create texts modelled after mentor texts.
The session will illustrate how student-generated texts can be enhanced with digital photography and other multimedia resources. While using student-generated texts to support print literacy development can positively impact all students, this session will focus specifically on the print-literacy development of low-literacy adolescents who have experienced gaps in their formal education due to life experiences in zones of war, conflict, and mass violence. Participants will also learn how to work with students who choose to recount trauma stories.
---
High School LAL Numeracy Courses, Phase 1 and 2
Jayesh Maniar | 1:30-2:15PM
Jayesh Maniar is a Consultant for Manitoba Education and Training. He has many years of experience as a classroom teacher, a school administrator, and a divisional and provincial EAL Consultant. Jayesh's passion is helping all students achieve their full potential.
This interactive presentation will introduce the new LAL Numeracy Courses that will offer newcomer students with refugee backgrounds and/or students with interrupted education the opportunity to develop background knowledge and numeracy skills to enable them to transition easily into mainstream mathematics classes.
This curriculum is designed to address the mathematical and the language needs of individual LAL students in a culturally sensitive classroom. The participants will become familiar with the scope and sequence of these new provincially developed courses as well as insights into planning to teach these courses. Links to digital copies of these courses will be made available.
---
Supporting EAL students in Math
Jennifer Nicholson | 2:45-3:30PM
Jennifer has been teaching EAL students at DMCI for 8 years. She developed an EAL math program to help students be more successful. She has a Masters in Peace Education, has travelled to 23 countries and spent 1.5 years teaching EAL learners in South Sudan.
Mathematics is the most difficult content area material to read because there are more concepts per word, per sentence, and per paragraph than in any other subject; the mixture of words, numerals, letters, symbols, and graphics requires the reader to shift from one type of vocabulary to another" (The Reading Teacher, 1994). Come and learn some ways to support EAL learners in your junior high or high school math class that will end up benefitting all of your students.
---
Advocacy and Partnerships Newcomer Education Coalition
NEC

| 1:30PM – 2:15PM; 2:45PM – 3:30PM
The Newcomer Education Coalition(NEC) is an organization dedicated to improving the educational opportunities of immigrant and war-affected youth.
Families from refugee backgrounds are often marginalized by an educational system that does not recognize their unique social needs and does not provide culturally
sensitive supports due to limited funding and over reliance on Eurocentric approaches. In order to understand refugee parental involvement from a more
inclusive perspective, it is necessary to examine the barriers that impede involvement.
---
Traditional Food Cooking Lesson
Multiple presenters

| 1:30PM – 2:15PM; 2:45PM – 3:30PM
This session will give our participants a fun experience of making traditional foodsfrom three countries Somalia, Ethiopia, Middle East.
---
Oral History Education: Developing Environmental and Social Justice Literacy through the Language Arts Curriculum
Guillermo Vodniza | 1:30PM – 2:15PM; 2:45PM – 3:30PM
Guillermo Vodniza has seven years of professional teaching experience in elementary and high schools in both rural and urban settings in Colombia and
Manitoba. In 2003, he was elected to chair the Ethics and Human Rights committee of the teachers' union in the province of Putumayo. One of his roles was to support at-risk children and youth.
Participants will understand the importance of oral traditions in the development of ecological strategies, as well as connect students' lives through oral history and
storytelling to recognize and celebrate each student's culture and heritage.
Guillermo will share examples of how he has used oral history in the classroom to help students celebrate identity, explore social justice themes, and understand their relation to the environment.
---
Bafa' Bafa'
Subbalakshmi (Kala) Kailasanathan |1:15PM – 3:30PM
Kala is an experienced EAL teacher, Subbalakshmi "Kala" Kailasanathan has more than 10 years experience working with students from diverse ethnic and cultural
backgrounds. Her personal experiences as an immigrant teacher has helped her address the unique needs of her students in the past 10 years as an EAL teacher in the
Winnipeg School Division. Further, she used her personal experiences to inform her Master Thesis in which she explored the macrocosmic challenges of immigrant
teachers. She is currently a Program Support Teacher in the Winnipeg School Division.
This exciting session will lead participants through a simulation that will help them to understand the impact of culture on the behavior of people and communities. You will experience "culture shock" by interacting with a culture where people have different values, different ways of behaving, and different ways of solving problems. The simulation will conclude with a debrief where participants are encouraged to rethink their own attitudes and behaviors towards others.
Registration will open after August 7, 2018. Please register from the following link:
Register Online: https://memberlink.mbteach.org/Event.axd?e=928
If you need any assistance with registering, please contact Melanie Hobbs, registrar, at tealmbconference@gmail.com, or Mojgan at masili@pembinatrails.ca
Membership and Conference Fees
Including Membership to TEAL Manitoba:
MTS Members and Non-MTS members: $65
EA/Volunteer/Retiree/Full Time Student: $25
Without Membership (Conference Only)
Full Day: $80
Half Day: $55
Refund requests will be accepted until October 17, 2018.
Refunds will NOT be granted for no-shows.
A $20 late payment fee will apply after October 12, 2018.